Key Facts and Figures
content
Economic Impact Assessment report
Perth College UHI contributes £113 million and supports 1,250 jobs throughout Perth and Kinross according to a report published in 2020.
The Perth College UHI Economic Impact Assessment report was commissioned to assess the economic impact of Perth College UHI in 2019. You can read about our report launch in our news section.
It was carried out by Biggar Economics to evaluate the national and regional contribution made by the University of the Highlands and Islands and academic partners as it approaches its tenth anniversary. Perth College UHI became part of the University in 2010.
Factsheet 5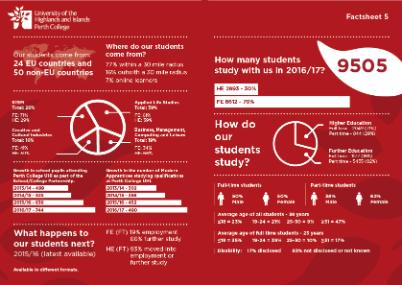 Download Factsheet 5