Perth City
content
Situated in the very heart of Scotland, UHI Perth boasts a lively student campus in a thriving and dynamic city with a fascinating history.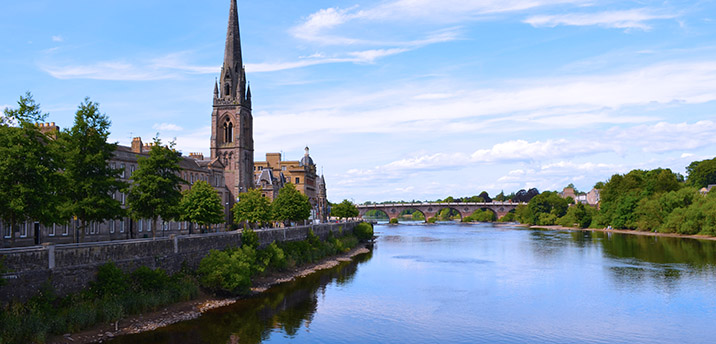 Perth is at the centre of Scotland, quite literally! It has been voted one of the best places in the country to live and is one of the friendliest and safest cities in the UK. Perth city is home to numerous restaurants, bars, shops and an award-winning concert hall and theatre. With a vibrant environment, Perth, granted city status to mark Her Majesty the Queen's Diamond Jubilee in 2012.
Perth sits at the gateway to the Highlands and Islands of Scotland, containing breathtakingly stunning scenery and a rich cultural heritage. With a historical background, there are many Scottish castles, museums, monuments, historical sites and battlegrounds to visit, as well as National Parks and vast areas of unspoilt wilderness.
Being such a beautiful area with a dramatic landscape, this region is fantastic for seeing wildlife and thrilling outdoor activities, with hill-walking, skiing, snowboarding, mountain biking, white-water rafting, horse-riding, golf, fishing, canoeing and climbing, amongst other adventurous opportunities, all on our doorstep and in some of the best scenery in the country.
For the fitness conscious we have our very own Academy of Sport and Wellbeing, as well as other gyms and leisure facilities across the area, our own leisure pool, an ice rink and even our local Scottish Premier Football League football team, St Johnstone FC, based just up the road at McDiarmid Park.
There's lots' happening on the UHI Perth campus too. A funky student union right in the heart of our campus has a Starbucks, with comfy furniture you can chill out on and enough space for live bands.
The city is only one hour from Edinburgh and Glasgow and within easy reach of Stirling, Dundee and the towns of neighbouring Fife, so you'll never be short of things to do in your free time.