Evaluative Report and Enhancement Plan 2019-21
content
The Evaluative Report and Enhancement Plan aims to provide a structure of support and challenge which will bring about improvements and promote a culture of individual and collective ownership for the quality of provision. The quality framework, "How good is our college?" provides the framework for evaluation and reporting on our Outcome Agreement.
The report provides the evidence of trends in performance against the Outcome Agreement measures and priorities, and outlines all the areas of positive practice and of improvement in regard to the quality of provision of services for learners.
The Evaluative Report and Enhancement Plan is built around Perth College UHI's response to four high-level principles;
Outcomes and Impact – How good are we at ensuring the best outcomes for all our learners?
Delivery of Learning and Services to Support Learning – How good is the quality of the provision and services we deliver?
Leadership and Quality Culture – How good is our leadership and approach to improvement?
Capacity for Improvement – What is the capacity to Improve?
The actions outlined in the Evaluative Report will be progressed, monitored and managed throughout the next 3 academic years.
Read our Evaluative Report and Enhancement Plan 2019-21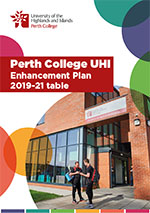 Read our Enhancement Plan Table