Clubs, Societies, Schools and Organisations
content
We are passionate about engaging with and supporting community groups. We can cater for large numbers and run sessions tailored to your aims or requirements. We cap our group numbers at 24 per session, however we have some flexibility with this - just email climbmanager.perth@uhi.ac.uk. Often larger groups will split their group into 2 smaller sessions on different dates.
Climbing is lots of fun and is also an excellent physical and mental workout as well as being a very social activity. It offers many other opportunties for personal deveolpment such as improving teamwork, communication, trust, problem solving and confidence.
Whether you want your group to learn a new skill, improve team dynamics, build confidence or just have fun then why not give climbing a go!
All our sessions are weekday evening slots - if you would like to request a booking for a daytime or weekend slot then please email climbmanager.perth@uhi.ac.uk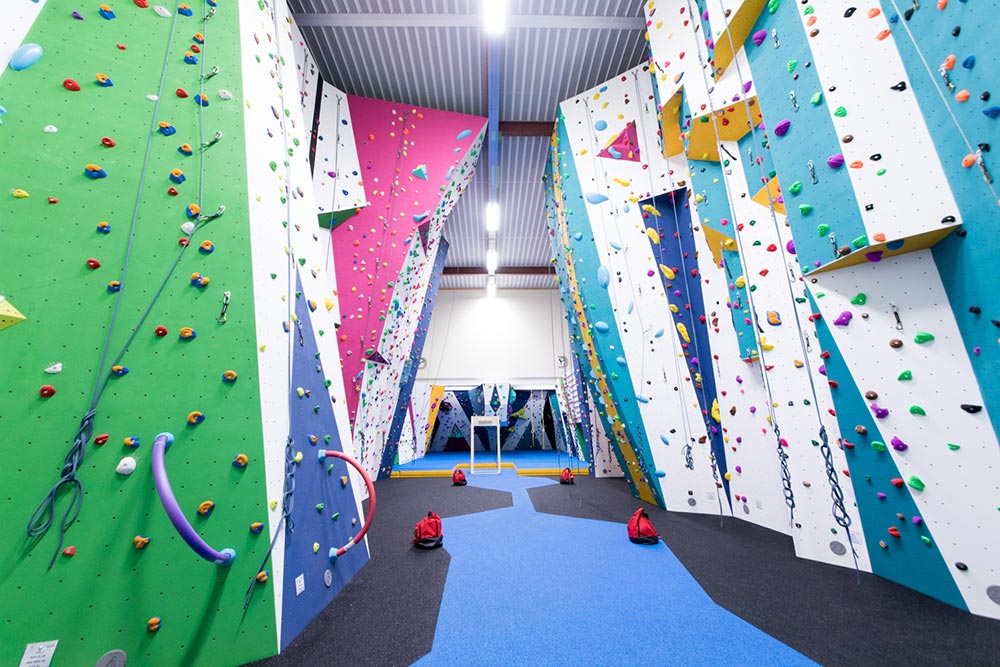 Frequently Asked Questions content
Frequently Asked Questions
Frequently Asked Questions
What kind of groups can you cater for?
If your group is a society, charity, community group, club or school then you qualify for these sessions. Examples of the groups we currently work with are:
Duke of Edinburgh Award groups
Scouts, Cubs, Beavers, Brownies
Schools and Home Education groups
Adult Groups or Clubs
What does the session involve?
Normally these sessions are run as 'Taster' style sessions which means the focus is on maximising the amount of climbs per person. We ensure the whole group is engaged at all times by getting them involved with belaying and encouraging the other climbers. While the aim of Taster sessions is not to 'teach' the required safety skills it is inevitable that the group will gain a basic understanding.
If your group has some previous experience - or has perhaps taken part in a Taster style session before, we can also run sessions which focus on teaching more of the skills required for people to come and use the wall independently.
We have both roped climbing and bouldering (non roped) areas within the climbing wall facility. Often groups will engage in both activities. Some people may prefer bouldering over climbing or vice versa - so we always aim to meet the needs of all individuals in the group whle maintiaining group management and safety
If your group has a specific aim - such as a Scout Badge, Duke of Edinburgh Award section, or other learning outcome please do let us know and we can tailor the session to meet this aim. This could be development of a specific climbng skill or could be more generic such as improved commuication skills.
How long is the session?
We recommend a 1.5 hour session for large groups to ensure that everyone gets enough climbs, and to allow for time to get equipment fitted etc
Can I book a block of sessions?
Yes!
If you would like your group to develop and work towards a specific goal, you may wish to consider more than 1 session as there can be alot to take in!
You can book multiple sessions online or you can email climbmanager.perth@uhi.ac.uk to request a block booking. If you are booking online you will need to book each date seperately.
What are the age requirements?
Our minimum age for most instructed sessions is 7 years old
If any of your group members are under 7 please email climbmanager.perth@uhi.ac.uk as we may be able to accept some younger ones if we have accompayning adults
There is no maximum age!
When do large group sessions run?
Weekday evenings:


Mon - Thurs: 6.30pm - 8pm
Fri: 7.45pm - 9.15pm

If you would prefer a weekday or weekend slot please email climbmanager.perth@uhi.ac.uk
Consent
We require consent forms to be completed for anyone who is taking part in the session in any form.
All our consent forms are online and we have separate forms for Under 16's and 16+ participants.
Once bookings are confirmed we will send out a link to forward to your group which contains the relevant forms.
By completing the forms through this link - all the forms are grouped together under your 'event' making it easier for the group leader and us to keep track of who has completed forms and any that are missing.
Payment and Cost
Our discounted rate for 1.5 hour taster style sessions is £12.50 pp.
If you are looking for a more bespoke session that involves more instruction, coaching or a longer session then we will quote this upon receiving the provisional booking request - please send any bespoke requests to climbmanager.perth@uhi.ac.uk detailing the group size and aims
Staffing and Ratios
We work on a maximum ratio of 1 instructor:8 participants but as much as possible aim to work on a 1:6 basis which maximises the potential amount of climbs per person
All our staff are fully qualified as well as having diverse and extensive experience running climbing sessions
We occasionally have volunteers supporting the session that may be working towards their own qualifications or broadening their experience - this does not affect our ratios but again may increase the potential amount of climbs per person. All volunteers are trained and at all times under the supervision of a staff member.
We understand that some of your adult group leaders may be competent climbers and may wish to help out on the session. If they are registered at UHI Perth Climbing Centre (have completed appropriate registration forms and undergone a practical demonstration) they can support the session by belaying but this would not change the staff ratio's or the cost of the session - and the climbing staff would still ultimately be responsible for safety and running the session. We would need any adults to already be registered with us in advance of the session as we would be unable to carry out a practical demonstration
Paperwork
We know you may require some paperwork from us so please just let us know if you need copies of our liability insurance or risk assessments and we will be happy to oblige
Make a Booking content
Make a Booking
Make a Booking
Booking Process:
Follow the 'Book Now' link below - complete all details and answer all questions and choose your preferred available date/time slot
Once completed your booking is provisional - no payment is taken on booking
You should receive a confirmation email within 3 working days - this will confirm the price, session date/time and include a link to the online consent forms
We understand that it can be challenging to confirm numbers for large groups on booking so we can allow a little time for you to confirm attendees
You must confirm final numbers at least 7 days before event - if numbers reduce within 7 days your cost will not be reduced.
If numbers increase within 7 days of the event you MUST let us know as soon as possible as this depends on staffing availability
The final cost will be based on your confirmed numbers even if less turn up on the night
Payment:
You can pay in advance over the phone or at reception
You can pay on arrival at reception on the day of the session
We can send out an invoice following the session