History of UHI Perth
content
In fifty years our College name and logo have changed over time to reflect our growing ambitions.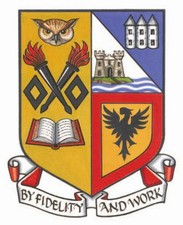 In 1961, Perth & Kinross Council opened Perth Further Education Centre in Nelson Street — formerly the Southern District School — so evening and day release classes could be available to the local community.
A full-time Principal was appointed at a salary of £1445 – £1700, with teachers employed for motor mechanics, carpentry and joinery, bricklaying, electrical installation, painting and decorating, plumbing and gas-fitting. The administrative side of things was taken care of by a full-time clerkess and the rest of the College was run by a labourer who doubled as a part-time cleaner, all for the sum of £8 7s 9d a week.
In 1965 Perth Further Education Centre was renamed Perth Technical College and the first chapter in the College's history came to an end in 1971 with the retiral of the College Principal, James Murray. In the same year we moved to our campus on Crieff Road and welcomed a new Principal, William McNeill.
The new building cost around £1.25 million and was formally opened by the Secretary of State for Scotland, Gordon Campbell. Twenty-four full-time lecturers in the departments of Building, Engineering (mechanical, motor and electrical), Commerce, Retail Distribution, Catering, Homecraft and Women's Trades, Hairdressing and General Studies, taught around 700 students. For a hand-written list of all the staff employed here at that time, see page 1 and page 2. We generated press coverage on the opening, our students and our new workshops.
Then in 1993, the increasing importance of higher education programmes and our departure from local authority control led to us being renamed Perth College.
Successive Principals took the College forward by introducing international students, our Development Trust and research. Our involvement with what was to become the University of the Highlands and Islands, became a reality in 2010 and we became Perth College UHI.
In October 2021, we celebrated 50 years situated on our Brahan campus.
In January 2023, we became UHI Perth. We revealed the new name and visual identity to strengthen engagement with communities and market our offerings more effectively through a connected and recognisable brand family.