Wellbeing self-help resources
Wellbeing Self-Help Resources content
Wellbeing Self-Help Resources
The Support Team have put together some self-help content we hope you will find useful. These are all free resources to help improve mental wellbeing. Below you can find a selection of podcasts, apps and websites for a whole range of mental health and self-help topics.
Podcasts content
Podcasts
Podcasts
From the number one non-fiction bestseller, comes Owning It: The Anxiety Podcast - with everything you need to hear to get on top of your anxiety. This practical and relaxed series explores everything from what anxiety is and why it happens to us, how our brains work and why it''s actually very normal to the various tools and techniques necessary for owning it. Author Caroline Foran shares her story, along with some expert input, in an attempt to help you show your anxiety who's boss. Most importantly, this is a series that tackles the reality of anxiety from a refreshing and relatable perspective.
ZZZZzzzzzz.zzzz..z.. . Sleepy is a podcast where host Otis Gray reads you to sleep with old books every week. Sweet dreams.
Fearne's HAPPY PLACE podcast series builds on the success of the top 10 bestseller HAPPY where Fearne draws on her own experiences and shares advice from experts on how to work through feeling blue to finding joy each and every day.
Taking up running can seem like a scary prospect, especially if you feel out of shape or unfit. NHS Couch to 5K will help you gradually work up towards running 5K in just 9 weeks.
Apps content
Apps
Apps
Suicide? Help! is a suicide prevention app aimed at users in Angus, Dundee and Perth & Kinross. It provides helpful info for those affected in any way by suicide, extensive contact details for services in Tayside as well as providing users with the ability to create their own safety plan.
The mental health app clinically proven to reduce stress, anxiety and low mood.
WorryTree helps you record, manage and problem solve your worries and anxiety based on Cognitive Behavioural Therapy (CBT) techniques.
The urge to self-harm is like a wave. It feels the most powerful when you start wanting to do it. Learn to ride the wave with the free Calm Harm app using these activities: Comfort, Distract, Express Yourself, Release, Random and Breathe. When you ride the wave, the urge to self-harm will fade.
Websites content
Worksheets content
Blogs content
HELP! I can't stay motivated...sound familiar? Thought so! content
HELP! I can't stay motivated...sound familiar? Thought so!
It can be difficult to study and learn at home. Trying to keep up momentum whilst sitting in the same area you sleep in, eat in or binge your favourite Netflix series in! We get it! So, here are some simple tips to try and help you focus and bring back that motivation.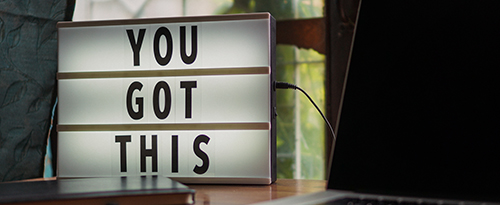 Prepare for the day ahead content
Prepare for the day ahead
Prepare for the day ahead
As tempting as it is to roll out of bed, sit in your pyjamas and snack on junk food all day, it really isn't the greatest way to get your productive juices flowing!
Get yourself up, have a shower, put clothes on - actual clothes, you know, the ones you would wear outside of the house.... Have a decent breakfast and prepare yourself physically, as well as mentally, for the day ahead.
Simple things like getting fresh air, exercise, connecting with others, getting dressed, making your bed, journaling etc. can help self-motivate allowing you to go on and focus on your studying/to-do list.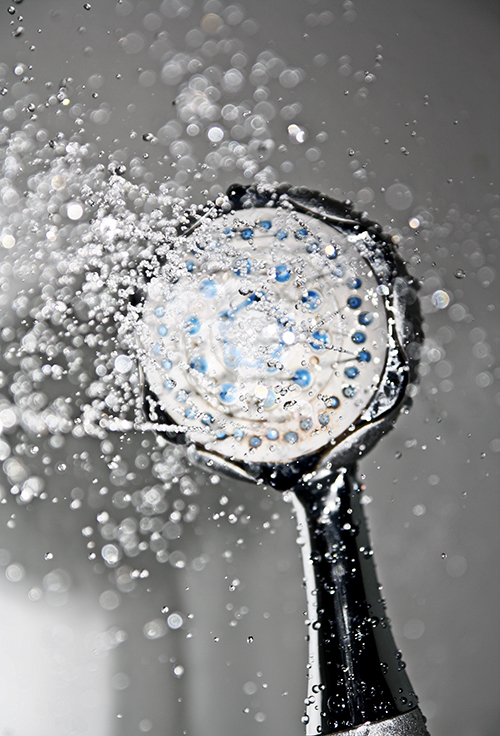 Create a to-do list/study schedule content
Create a to-do list/study schedule
Create a to-do list/study schedule
Create a list of what you need to do and break them down into smaller, more manageable chunks.
Big tasks like writing an essay or revising for an exam can be demotivating because there seems like there is soooo much to do! Make it less daunting for yourself – break down your essay and do sections at a time; when revising - revise one subject area at a time. Don't overload yourself by doing it all at once i.e. leaving it until the night before!
Make sure you stick to your study schedule. Give yourself plenty of time to complete the task in hand.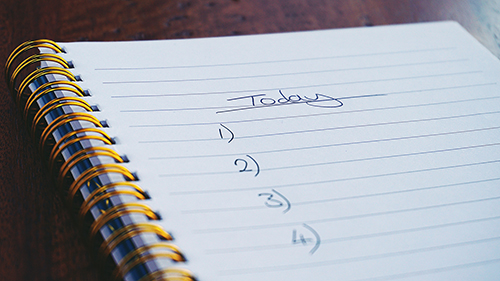 Find yourself a designated study space content
Find yourself a designated study space
Find yourself a designated study space
Find yourself your designated study spot – find a spot and stick to it! Make sure its clear of clutter (i.e. phone, TV etc.) and tidy it up from the likes of cups and food wrappers often – clear space for a clear mind.
Make sure it's an area with minimal traffic for pets and other humans, with enough space for your computer/laptop and study material.
Did you know, in usual circumstances, you can also come into the Library to study? Check the current situation.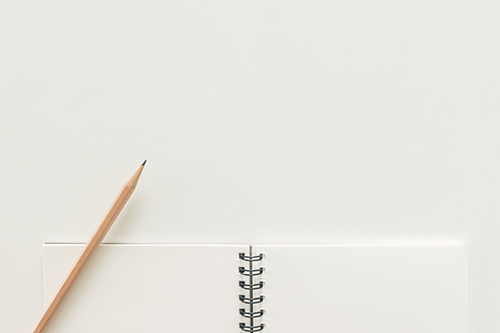 Take a break! content
Take a break!
Take a break!
Take regular breaks. It has been scientifically proven that concentration increases dramatically when you take short break -music to your ears!
When you are creating your to-do list/schedule, factor in breaks. Research suggests that you will be able to reach your 'Perfect Productivity' by working in periods of 52 minutes and taking a 17 minute break.
Breaks should consist of moving away from your study space – go for a few laps of the garden, get a cup of tea/coffee, catch up on the news or social media.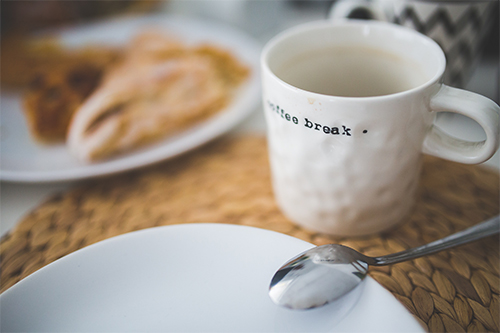 Exercise content
Exercise
Exercise
If you can, try exercise throughout your breaks. Do some stretches, go for a 10 minute jog, do some star jumps! This is a quick way to release those endorphins and help improve your concentration levels.