Climate connections 2011; Linking Climate Change Research
content
SNH conference centre, Battleby, Perth; 2011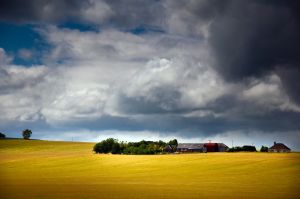 Friday 13 May 2011, SNH Conference Centre, Battleby, Perth
With the implementation of the Climate Change (Scotland) Act 2009, Scotland is taking a global lead in transforming to a low-carbon society. But how will researchers, stakeholder organisations and the public be able to acquire, share and utilize knowledge on climate change in order to meet future challenges?
Exploring the role that climate-related knowledge networks can play in shaping understanding of, and responses to, climate change within a rural context, Climate Connections facilitated conversations between scientists and interest groups.
The seminar aimed to:
Increase understanding of factors driving climate-related activity in Scotland
Gain knowledge of networks that inform those working with the climate change arena
Identify opportunities for building on these networks to ensure Scotland is better equipped to respond
Help generate the output of the seminar, the Climate Connections Report, which will reflect the workshops and plenary discussions.
Keynote Speakers:
Professor Anne Glover, Chief Scientific Officer. Introduction by Professor Martin Price of the Centre for Mountain Studies, Perth College UHI.
Output:
A brief report that summarises activity across research networks for climate change in rural areas in Scotland will be produced for the Scottish Government, policy makers and users of research and other professionals.
The Climate Connections seminar was covered by the BBC Radio Scotland 'Out of Doors' programme on Saturday 14 May 2011. Listen here.
Climate Connections presentations.
Programme:
An output generating seminar with keynote speakers; three main themes with speakers; two workshops and plenary discussions which form the basis of a report to the new government.
| | | |
| --- | --- | --- |
| Welcome and Introduction to the Day | Professor Martin Price | 9:15am |
| Keynote Speaker | Professor Anne Glover | 9:25 |
| State of the environment and impacts | Professor Dominic Moran, Researcher Perspective | 9.40 |
| | Antje Branding, Policy Perspective | 9.55 |
| Workshop 1 | Networks addressing state of environment and impacts | 10.05 |
| Teas/Coffee break, Exhibits and Networking | | 11.00 |
| Feedback from Workshop 1 | | 11.30 |
| Drivers and Responses | Dr Andy Kerr, Researcher Perspective | 11.50 |
| | Dr Rebekah Widdowfield, User perspective | 12.05pm |
| Workshop 2 | Networks addressing research delivery and research uptake | 12.20 |
| Lunch, Exhibits and Networking | | 1.05 |
| Feedback from Workshop 2 | | 2.00 |
| Communication of Climate change Research | Lorraine Fitzgerald (SCCIP) | 2.20 |
| | Graeme Cook (SPICe) | 2.35 |
| Communicating Climate Change – Experience from Clim-ATIC | Clive Bowman (CMS, Perth College UHI) | 2.50 |
| Plenary Discussions | Facilitated by Professor Colin Galbraith | 3.05 |
| Conclusions | Professor Stuart Monro | 3.50 |
| Networking, Exhibits and taxis to Perth Railway station at 4.45pm | | 4.05 |
Posters:
| | | |
| --- | --- | --- |