Scotland's Changing Rural Biodiversity: policy and action needs
content
13 May 2009, SNH Battleby Centre, near Perth.
A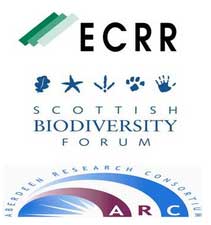 forum organised by the Edinburgh Consortium for Rural Research in association with Aberdeen Research Consortium and the Scottish Biodiversity Forum
Many parts of rural Scotland hold important biodiversity, often – but not always – within protected sites. This biodiversity – from the species to the landscape scale – has diverse values for Scotland's economy and people. Both species and habitats are influenced by a wide variety of forces of change at various scales, from the local (land management decisions), to the global (climate change).
Within this complex context, the Scottish government is committed to halting the loss of biodiversity by 2010. However, while we know that some progress has been made towards this target, knowledge of the current status of biodiversity across rural Scotland – especially outside protected sites – is variable. There is an urgent need to understand the current state of our biodiversity, possible future impacts of these drivers of change, and how we can manage our biodiversity effectively across large spatial scales and in integrated ways across sectors.
The aim of this one-day forum, which took place immediately before Biodiversity Week 2009 (16-24 May), was to present and discuss current knowledge on the status and values of Scotland's rural biodiversity and to explore successes and failures in achieving biodiversity goals, how these goals are and could be integrated into key policies, and how diverse partners can work together at landscape and other scales to achieve biodiversity and other goals.
In addition to presentations, there was adequate time for discussion in the plenary sessions. To complement these sessions, individuals were asked to present posters which were available for discussion over a long lunch period and during the concluding reception.
Audience: Researchers, practitioners, policy-makers
Outcomes:
• book of abstracts of posters and presentations, available at conference
• powerpoint presentations on the ECRR website together with the abstracts
• brief (maximum 4 page) summary document of the key points, to be produced by the organisers after the event to go on the website and to be circulated to the partners
• article in the Scottish Biodiversity Forum newsletter.
Programme
Please download the forum summary document