Professor Anna Lawrence
content
Professor, Human Dimensions of Forestry
Researcher, teacher and programme leader in social forestry and action research, over 30 years, in more than 25 countries.
Established the Human Ecology research programme at the Environmental Change Institute, Oxford University (2001-2008)
Head of Social and Economic Research at Forest Research (the Forestry Commission's research institute) (2008-2015)
Independent consultant, visiting professor, and director of Random Forest Research since 2015
Qualifications
PhD in International Development, University of Reading, UK
MSc in Forestry, University of Oxford, UK
BA Natural Sciences (Botany) (First Class), University of Cambridge, UK
Contact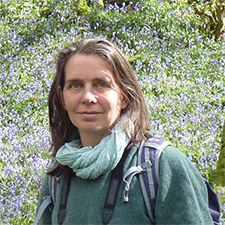 content
Research Activities
Anna's career has combined participatory research, community development, and policy, with a focus on forests and biodiversity. Starting in 1990 in Bolivia, she spent about 15 years developing and managing a wide range of participatory research projects across three continents, including participatory soil conservation, medicinal plant cultivation, and on-farm tree cultivation.
Working at the University of Oxford's Environmental Institute from 2001, she established and led the Institute's Human Ecology Programme with a team of up to eight researchers. The focus broadened to include participatory protected area management in post-social Europe and citizen science in the UK and further afield. In this role, Anna supervised MSc and DPhil students, and delivered post-graduate teaching modules on environmental governance, participatory resource management, and social research methods.
At Forest Research, she led a team of fifteen social researchers, economists and statisticians, to provide research and evidence to support the implementation of Scottish, English and Welsh forest policy, particularly by understanding the relevant stakeholders and processes to ensure a sustainable relationship between society and woodlands.
Previously, she was Visiting Professor at the Forestry and Environmental Policy Group, University of Wageningen; Senior Research Associate at the University of Reading (conducting research in Bolivia, Brazil, India, Bangladesh, Philippines, Ghana and Laos); Research Associate at the Overseas Development Institute in London (conducting research in Mexico, Honduras, Ecuador and Bolivia); Scientific Officer at the Royal Botanic Gardens, Kew (conducting research in Honduras, Nicaragua and Costa Rica); and Associate Professional Officer in a UK-funded agroforestry support project in Bolivia.
In 2003 she organised and convened an international internet conference on Participatory biodiversity monitoring and evaluation followed by a policy seminar hosted at DFID offices, London and an edited book of case studies published by Cambridge University Press.
She has taught social forestry, social aspects of mountain forestry, participatory methods in forestry, participatory research and citizen science, environmental governance, and comparative social research methods, in Masters and undergraduate courses at four universities.
Current activities include research and consultancy on community and urban forestry, community land ownership, and the culture and organisation of professional forestry.
Voluntary activities include a range of community forestry work in Scotland. She is Chair of the Community Woodlands Association; current Convenor of the independent think tank Forest Policy Group; steering group member responsible for seed collection and coordination, Carrifran Wildwood; steering group member, Eshiels Community Wood; and a biodiversity recorder for plants and birds.
Current and recent activities
External examiner/opponent for PhD defences in five countries
UNECE (United Nations Economic Commission for Europe): Coordinating Lead Author for Study on Forest Ownership in the UNECE region. June 2017-Jan 2019
Lead researcher, evaluation of 'Making Local Woods Work', a UK wide programme of support to growing woodland-based social enterprise.
Collaboration with SRUC on 'Review of the effectiveness of current community ownership mechanisms and of options for supporting the expansion of community ownership in Scotland' commissioned by the Scottish Land Commission. 2018.
Guest Professor, University of Padua, Italy, Dec 2017-Jan 2018: designed and taught module on 'Social Forestry' available to post-graduate students in forestry and related subjects
Guest Professor, BOKU (University of Land Sciences) Vienna: module on 'Participation revisited: citizen science, community research and change' delivered to students from across bachelor, masters and PhD, and range of departments April 2017
UNECE: Lead author "Social Aspects of Green Economy –Study Paper on Forest Sector Workforce" 2017.
"Value from supporting local forestry businesses – a scoping study" lead author of consultancy report by Forest Policy Group to Forestry Commission Scotland, 2017-18
Vice Chair, COST Action FP1201 Forest Land Ownership Changes in Europe: Significance for Management and Policy (FACESMAP). Co-led 30 country collaboration to share knowledge and draw wider lessons on changing forest ownership across Europe. Leader of two sub-groups: comparisons of community forest ownership models in Italy, Slovakia, Sweden and UK; and a synthesis model of advisory systems for private forest owners in 11 countries. 2013-17.
Domain Expert for forest governance: SIMWOOD Sustainable Innovative Mobilisation of Wood. EU FP7 Project No. 613762. Follow-up consultancy: 'Evidence review on factors affecting mobilisation of wood'
Chartered Forester – professional member, Institute of Chartered Foresters; Board Member, Educational & Scientific Trust
Current Responsibilities and Memberships
In 2007 Anna was awarded the James Martin Fellowship in Forest Governance, Oxford University. She gave the 2006 Distinguished Ethnobotanist lecture, Royal Botanic Gardens, Kew on 24 October 2006.