Dr Rosalind Bryce
Director, Centre for Mountain Studies content
Director, Centre for Mountain Studies
Roles
Programme Leader: MSc Sustainable Mountain Development
Module Leader on MSc Sustainable Studies
Qualifications
PhD in Ecology, University of Aberdeen (NERC CASE studentship with CEH Banchory): The role of water voles as ecosystem engineers: species loss and ecosystem processes
BSc Hons in Zoology, University of Glasgow
Contact
+44 (0) 1738 877217
Top Floor, Webster Building
Teaching subjects
Environmental and Social Issues in Mountain Areas
Sustainable Deer Management
Sustainable Land Use and Renewable Energy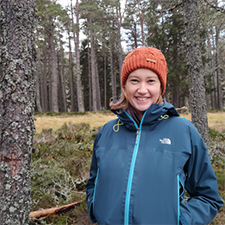 content
Technical/Research interests
View Rosalind's PURE Profile
The influence of social factors, such as values, motivations and social networks on decision making and responses to environmental problems.
Improving the integration of cultural ecosystem services into environmental decision making
Understanding how environmental research evidence is used in policy and practice
Integrated land use
Invasive species management
Ecosystem engineering
Employment history
Joined the Centre for Mountain studies in January 2014 as a researcher.
Background in Ecology, her research interests span the natural and social sciences and she has often worked with interdisciplinary research teams.
Much of her work on biodiversity, ecosystem engineering and invasive species management has been conducted in the Scottish uplands and she has also worked in other parts of the UK and Europe.
She is interested in the use of participatory methods and decision making for environmental management and frequently works with land managers and other stakeholders.
Projects
BiodivERsA Stakeholder Engagement Toolkit Case studies (Contract with JNCC, funded by BiodivERsA 2013-2014; Role: Principal Investigator
Shared Values Work Package, National Ecosystem Assessment follow-on (funded by DEFRA, Welsh Government, NERC, ESRC and AHRC 2012-2013; Role: post-doctoral research fellow)
Mapping, analysis and improved understanding of stakeholder groups to help sustain honey bee health (funded by DEFRA 2013; Role: post-doctoral research fellow)
Ecocycles: Interacting impacts of land use and climate changes on ecosystem processes (funded by NERC and EU Framework 6; 2009-2012; Role: post-doctoral research fellow)
HUNTing for sustainability (funded by European Commission FP7; 2009-2012; Role: post-doctoral research fellow)
Cairngorms Mink and Water Vole Project (funded by the Tubney Trust, SNH and Cairngorms National Park Authority; 2007-2009; Role: project manager/post-doctoral research fellow)
Published papers
Fraser, E.J., Macdonald, D.W., Bryce, R., & Lambin, X. (2014) Control of an invasive species through empowering environmental stakeholders – ecotourism boat operators as guardians of local wildlife against the invasive American mink. Oryx
Bryce, R., van der Wal, R., Mitchell, R., & Lambin, X. (2013) Metapopulation dynamics of a burrowing herbivore drive spatio-temporal dynamics of riparian plant communities. Ecosystems, DOI: 10.1007/s10021-013-9677-9
Davies, A., Bryce, R. & Redpath, S. (2013) The use of multi-criteria decision analysis to tackle environmental conflict: a review. Conservation Biology, DOI:10.1111/cobi.12090
Bryce, R., Oliver, MK., Davies, L., Gray, H., Urquhart, J. & Lambin, X. (2011). 'Turning back the tide of American mink invasion at an unprecedented scale through community participation and adaptive management'. Biological Conservation, vol 144, no. 1, pp. 575-583
Reed MS, Fazey I, Stringer LC, Raymond CM, Akhtar-Schuster M, Begni G, Bigas H, Brehm S, Briggs J, Bryce R, Buckmaster S, Chanda R, Davies J, Diez E, Essahli W, Evely A, Geeson N, Hartmann I, Holden J, Hubacek K, Ioris I, Kruger B, Laureano P, Phillipson J, Prell C, Quinn CH, Reeves AD, Seely M, Thomas R, van der Werff Ten Bosch MJ, Vergunst P, Wagner L (2011) Knowledge management for land degradation monitoring and assessment: an analysis of contemporary thinking. Land Degradation & Development
Cockram, M.S., Shaw, D.J., Milne, E.M., Bryce, R., McClean, C. & Daniels, M.J. 2011 Comparison of effects of different methods of culling red deer (Cervus elaphus) by shooting on behaviour and post-mortem measurements of blood chemistry, muscle glycogen and carcase characteristics. Animal Welfare 20: 211-224
MacLeod, R., Herzog S.K., Maccormick, A., Ewing, S.R., Bryce R., & Evans, KL. 2009 Rapid species abundance monitoring for biodiversity conservation: testing consistency and reliability of the Mackinnon lists technique. Biological Conservation 144: 1374-1381
MacLeod, R., Ewing, S.R., Herzog S.K., Bryce R., Evans, KL. & Maccormick, A. 2005 First ornithological inventory and conservation assessment for the yungas forests of the Cordilleras Cocapata and Mosetenes, Cochabamba, Bolivia. Bird Conservation International. 15, 361-382
Downie J.R., Bryce R., & Smith J. 2004. Metamorphic duration: an understudied variable in frog life histories. Biological Journal of the Linnean Society. 83, 261-272.
Bryce R., Hennessey, A.B, MacLeod, R., Evans, K., Ewing, S.R., Herzog S.K., Maccormick, A. & Gomez, M.I. 2004. First sound recordings, new behavioural and distributional records and a review of the status of the globally threatened Scimitar-winged Piha Lipaugus uropygiali. Cotinga 24, 102-106.
Reports
Thomson, S., Moxey, A., Wightman, A., McKee, A., Miller, D., Brodie, E., Glass, J., Hopkins, J., Matthews, K., Thomson, K., Mc Morran, R. and
Bryce, R.
(2016).
The impact of diversity of ownership scale on social, economic and environmental outcomes: Exploration and case studies
. Final report to Scottish Government, CR/2014/19.
Glass, J., Bryce, R. and McKee, A. (2015). Mountains and Scotland's communities. The Geographer, 21-22.
Mc Morran, R., Bryce, R. and Glass, J. (2015). . Commissioned SRUC and CMS report, September 2015.
Staff Spotlight content
Staff Spotlight
Dr Rosalind Bryce is the Director at the Centre for Mountain Studies. She carries out research on applied conservation and environmental management at Scottish and European levels.
Originally an ecologist, Rosalind now works on interdisciplinary projects that consider the social dimension of how we manage our natural resources. Her recent research includes projects on deer management, land ownership, ecotourism and social innovations.
Alongside her research, Rosalind teaches on the online MSc in Sustainable Mountain Development and supervises postgraduate researchers. At the Centre for Mountain Studies, Rosalind enjoys working within a team who have wide research interests and enthusiasm for knowledge exchange and working with stakeholders.