Employer Feedback
content
Supporting Foundation Apprentices has proved valuable for a number of local employers across Perth and Kinross, and has enabled them to meet local school pupils at the start of their careers.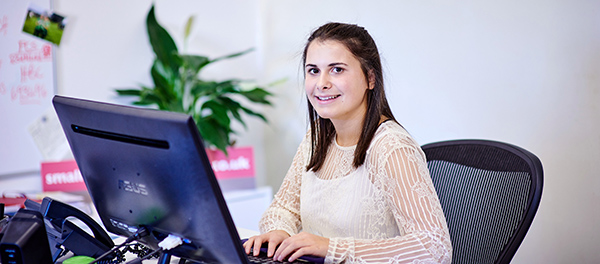 Culture Perth and Kinross currently support a student on the Creative and Digital Media Foundation Apprenticeship.
"We have found providing a work placement for a Foundation Apprentice to be positive for Culture Perth and Kinross and would recommend it to other businesses. When Caitlin has completed her project, we will have a worthwhile contribution."
Elaine Wallace, Senior Officer; Perth City Libraries - Culture Perth and Kinross
Jodie (photographed above) is doing her work placement with Small City, Big Personality Jodie is on the Business Skills Foundation Apprenticeship.
"It has been wonderful having Jodie. She is a real asset to the team and has given us valuable support in this busy time of year. We would most definitely recommend this to other businesses."
Holly Macdonald, Business Manager – Small City, Big Personality
content
If your business has supported a Foundation Apprentice, please send us your feedback to help us improve. Email any comments or suggestions to Emma Bowman, Foundation Apprenticeship and Schools Programme Coordinator.