Rosemary Stanford
content
Part-time lecturer Musical Theatre
Role
Lecturer for HNC/HND level singing skills, vocal techniques and performance preparation
Qualifications
PDA in Teaching Practice in Scotland's Colleges SCQF Level 9
BA (Hons) Acting and Performing Arts
HNC/HNC Acting and Musical Theature
NC Performing Arts
Contact
Visit room 521, Goodlyburn Building
Teaching subjects
Vocal techniques and singing skills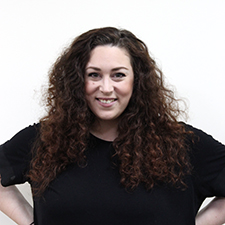 content
Technical/Research interests
Vocal Practitioners, Estill Vocal Training along with other technique based programs
Employment history
Rosemary also works as a freelance tutor in singing and drama for all ages, currently working for Pirrie Performing Arts and Inspire. Previously has worked with Horsecross Glee/ Voices, Ad-lib Performing Arts and Theatre Arts Perth (TAS) as well as a vocal tutor for Perth & Kinross Council, Saturday Cool School from 2011 - 2017.
As well as lecturing, she runs her own private Vocal Tutoring service based in Perth.
Rosemary has worked professionally performing in theatre's such as: The King's Theatre-Glasgow, Perth Theatre, The Byre Theatre-St Andrews, The Union Theatre in London. As well as successful runs of shows at the Edinburgh Festival Fringe, Belladrum Tartan Heart Festival, and BEAM Festival, London.
More recently Rosemary has established a career in music. Singing in local band True Gents and her jazz duo Finn & Rose. As well as her band work and collaborations with other musicians, Rosemary is very passionate about creating new original music.
Rosemary studied acting and musical theatre from 2005 - 2007 at Fife college and Edinburgh's Telford College before starting her training at the Liverpool Institute for Performing Arts (LIPA) 2007 - 2010. It was here she founded her passion for the voice and has since continued to focus on vocal/ singing work.
Through her time at LIPA, Rosemary had the pleasure of working with vocal practitioner Dr Gillyanne Kayes and attended masterclasses with legendary actors Alan Rickman and John Hurtz.