Prizegiving ceremony celebrates student excellence
Exceptional UHI Perth students were celebrated at a special prizegiving ceremony on Thursday 1 June.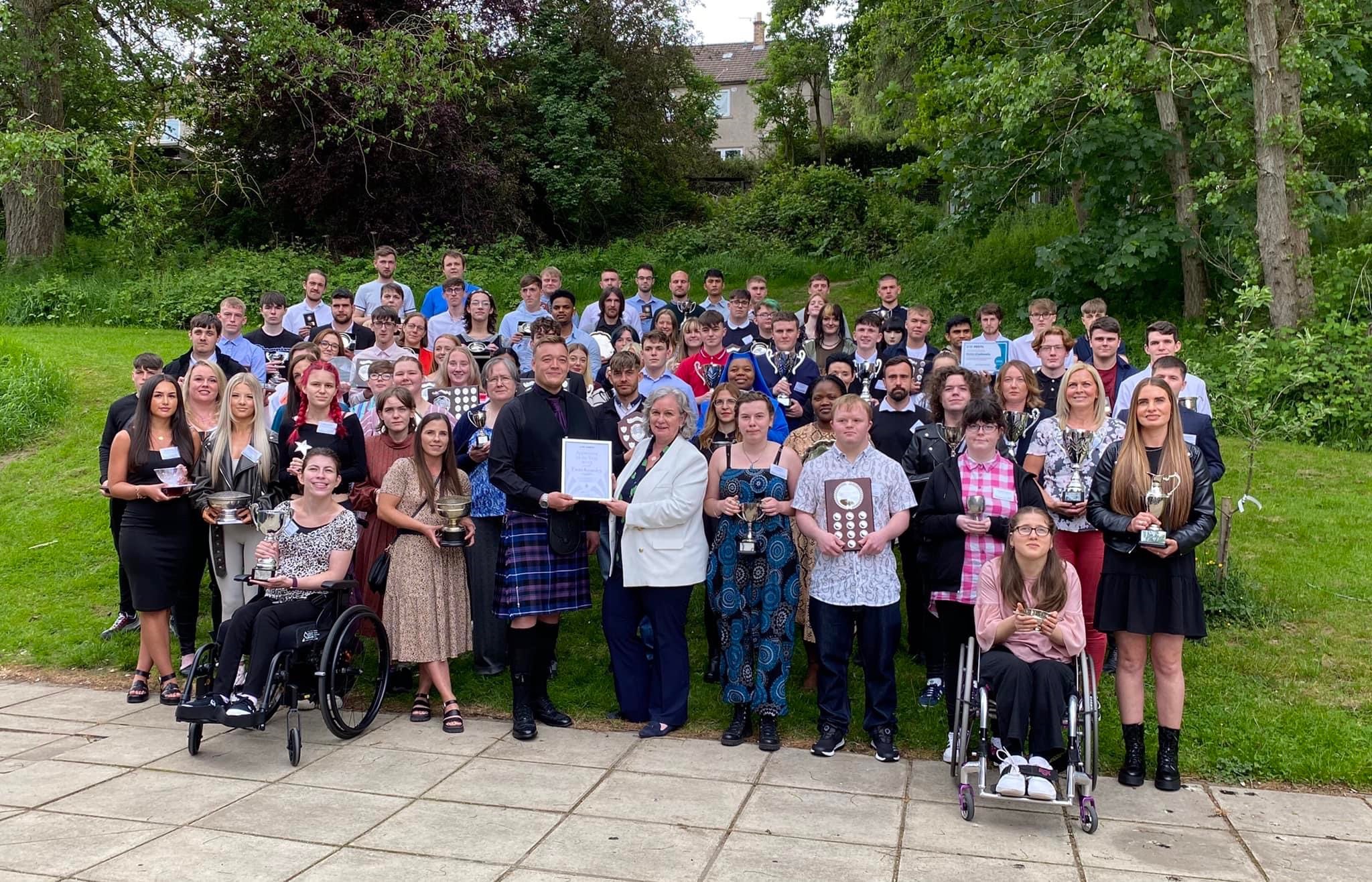 The event honoured students who had demonstrated outstanding performance, talent, dedication, and contribution in their academic and personal lives.

Taking place for the first time in UHI Perth's Academy of Sport and Wellbeing (ASW) on the Crieff Road campus; families, employers, lecturers and guests all enjoyed recognising the efforts of award-winning students.

The ceremony began with a welcome from Dr Margaret Cook, Principal and Chief Executive, who emphasised the significance of the event. She explained: "I would like to thank everyone who joined us to celebrate the achievements of our outstanding students. They have worked incredibly hard, particularly given the difficulties around Covid. With commitment and determination, our students have been supported by their families, friends and UHI Perth staff who have encouraged them to achieve their goals.
"Many have also been supported by employers and sponsors and our thanks go to everyone who has played their part. Congratulations to all of our prize-winners, on such an enjoyable and special day."

Keynote Speaker was Jack Parr, owner of Macrotrition, a company which creates nutritious meals and snacks. He studied HNC and HND in Fitness, Health and Exercise at UHI Perth and is committed to helping others achieve their fitness goals. As he started his student journey, the Academy of Sport and Wellbeing (ASW) was recently built, and it continues to offer a unique and outstanding learning environment on the UHI Perth campus for new and continuing students.

Today, Macrotrition has grown into a successful business which includes a cafe and a food truck. Jack said: "I believe my education at UHI Perth played a critical role in my journey, helping me gain the knowledge and skills needed to excel in the fitness industry, and also the importance of adaptability and resilience in the face of challenges."

Following the speeches, each student was invited on stage and presented with their awards, trophies and certificates to recognise their hard work and dedication.

Ewan Kemsley, Carpentry and Joinery student, was awarded Apprentice of the Year.

Kevin Gatherum, Built Environment Lecturer who nominated him, explained: "Ewan brings a strong work ethic and exceptional contribution to our department. His willingness to learn and self-motivation shines through and he practices his skills and further advances his knowledge in any way he can.

"As well as helping staff with additional projects throughout the year, he has almost completed a bespoke chess board for his son that he has designed and crafted. He is a breath of fresh air, and willingly offers help and support to fellow students struggling with some of the practical elements of the course. His peers see him as a good role model and regard him in high esteem.

"Ewan's maturity brings a calmness to the class and always encourages his peers to work to a high standard. On every assessment to date, he's achieved full marks and has produced several written projects that have gone above and beyond the required criteria, showing that he puts in the time and effort required for the theoretical elements of the course. Within his employment at WB Dodds, Crieff, Ewan is very highly regarded and is already a key member of the company.

"The positive impact Ewan makes on everyone around him makes him a worthy winner of this award, as he truly is one of the most outstanding apprentices we have ever had the pleasure of working with over all our combined years of teaching Carpentry and Joinery. He is highly regarded due to his sheer dedication to the craft, passion, and determination in the pursuit of excellence in everything he tackles."
Prizewinning students:
Applied Life Sciences
Social and Vocational Studies
Kieran Gibson, The Proctor Group Award for Employability
Wiktoria Mucha, Personal Achievement Award
Declan Essington, Eileen Robinson Cup for Personal Endeavour
Niamh Grieve, Communication Cup
Scott Forbes, UHI Perth SVS Friendship Shield
New Opportunities
Teenah Bee, Community Learning Award
Naomi Bruce, Cathy Hamilton Memorial Cup for Endeavour
Matilda Bijum, Personal Achievement Award
Viktorija Golovlina, Personal Development Award
Fiona Tickner, Adult Learners Personal Achievement Award
Emilie Holmes, Community and Citizenship Award
Katie Archibald, The New Opportunities Award for Excellence in Learning
Nathan Reid, The Guildry Incorporation of Perth Award for NQ Care Level 5
Health and Social Care
Lisa Anderson, Health & Social Care Level 6 Award
Taiwo Babajide, SVQ Student of the Year for Health and Social Care
Hazel Dow, The June Lawrie Memorial Bowl for NQ Access to Nursing and Midwifery
Social Science
Derek Wright, The Sár Chothrom Award for Highers for HE
Amy Owens, The Stewart Fraser Quaich for Excellence in HNC
Early Education and Childcare
Alejandra Costa, The Childcare Award for NQ in Playwork and Development
Naomi Thompson, The Margaret Napier Award for NC Early Education and Childcare Group NQ Social Services: Children & Young People SCQF Level 6
Hair and Beauty
Ashley Gallacher, The Alexander Rose Bowl for NC Beauty Care
Ellie Fleming, Ellisons Student of the Year Award for Endeavour
Boglarka Bacskaine Bagi, Beauty Therapy Level 5: Student Award for Endeavour
Maryann Boyer, Beauty Therapy Level 6: Student Award for Endeavour
Fiona Petrie, SVQ Level 2 Hairdressing: Student of the Year
Leanne Sinclair, SVQ Level 3 Hairdressing: Student of the Year
Schools
Sophie Timney, Best Year 1 Foundation Apprentice
Alasdair Dawes, Applied Life Sciences - Best Schools/College Student
Business, Management, Computing and Leisure
Hospitality, Tourism and Leisure
Ebere Ifediba, The Ian Ironside Memorial Quaich for Gleneagles Patisserie Course
Amy Ferguson, The Michael Robinson Memorial Trophy for Endeavour
Leaf Ralston, SVQ Let's Get Into Hospitality Award
Callum Dow, VisitScotland Award for Aspiring Young Chef of the Year
Jack Blair, The Tom Kitchin Perpetual Challenge Trophy for Culinary Excellence
Business, Management and Computing
Finlay Gordon, NQ Computing Cup for Academic Excellence - Group A
Courtney Simpson, NQ Computing Cup for Academic Excellence - Group B
Cameron Petrie, NQ Computing Award for Exemplary Attitude to Studies - Group A
Euan McGowan, NQ Computing Award for Exemplary Attitude to Studies - Group B
Sophie Dickson, Grace Moseley Memorial Trophy for Endeavour for NQ Computing
Vincent Blackman, NQ Administration Cup for Academic Excellence
Jack Donaldson, NQ Business and Accounting Cup for Academic Excellence
Kayleigh Ptak, NQ Administration Award for Exemplary Attitude to Studies
Katarzyna Rogowska, NQ Business and Accounting Award for Exemplary Attitude to Studies
Elizabeth Morris, Prepare for Study Best Student Award
Sport and Fitness
Ryan Geddes, Sport and Fitness FE Student of the Year
Niamh Anderson, Sport and Fitness Shield for Academic Excellence
Brandon Joy, Sport and Fitness Personal Development and Achievement Award
Mylo Scott, Sport and Fitness - Best Schools/College Student
Schools
Jacob Juggins, Best Year 2 Foundation Apprentice
Alex Brand, Business Management, Computing & Leisure - Best Schools/College Student
Creative and Cultural Industries
Creative Industries
Martha Tomlinson, NQ Art and Design - Prize for Excellence
Alisha Thomson, NQ Art and Design - Prize for Personal Endeavour
Woody Morton, FA Creative and Digital Media – Prize for Excellence
Sarah-Rose Wilkins Higher Photography – Prize for Excellence
Music and Music Business
Rebekah Lennon, NC Music - Prize for Excellence
Dennis Swan, NC Music - Prize for Personal Endeavour
Sonido Kofi Sewornu, NPA Music Business - Prize for Excellence
Audio Engineering and Theatre Arts
Amy Findlay, NC Sound Engineering - Prize for Excellence
Abrel Abebe, NC Sound Engineering - Prize for Personal Endeavour
Franki Durston, NQ Acting and Theatre Performance – Prize for Excellence
Language School
Agnes Kormendy, Language School - Prize for Excellence
Svitlana Prosoiedova, Language School - Prize for Personal Endeavour
Mohamed Alsattof, Language School - Student of the Year
Schools
Robbie Strachan, Creative & Cultural Industries - Best Schools/College Student
Science, Technology, Engineering and Maths
Built Environment
Dale Shepherd, The Peter Milne Nurseries Prize for Best Horticulture Student
Aidan Smith, Colin Graham Memorial Award for Electrical Installation – 1st Stage
Jamie Mackie, Colin Graham Memorial Award for Electrical Installation – 2nd Stage
Mathew Phillips, The WS Woodmachinery Carpentry and Joinery Best Apprentice Prize
Callum Fullerton, Scottish Building Federation – Best Craft Apprentice
Samuel Hunter, Perth Branch (UCATT) Cup for Special Competence in Practical Craft Skills
Jaden Stewart, The Morrison Construction Shield – NPA Multi-Skills Prize for Best Student
Jacob Higgins, NPA Construction Prize for Best Student
Christopher Hilton, NPA Construction Most Improved Student
Mihails Tomilovs, NQ Plumbing Student of the Year
Michael Hughes, Perth and District Master Plumbers' Association Award – Best First Year Apprentice
Ben Sutherland, Perth and District Master Plumbers' Association Award – Best Second Year Apprentice
Adam More, Perth and District Master Plumbers' Association Award – Best Third Year Apprentice
Callum Stevens. Monument Tools Award – Prize for Overall Continued Excellence Years One, Two and Three
Ben Sutherland, SNIPEF Education and Training Trust Apprentice Shield
Freddie McCreanor, The James Petterson Memorial Award
Lee Stewart, Hadden Group Award for Best Built Environment Student
Ewan Kemsley, UHI Perth Apprentice Of The Year 2022-2023
Science
Jennifer Severs, Glaxo Wellcome Prize for Best Access to Science Student
Megan Grant, The Shell UK Forfar Prize for Science Highers
Engineering
Ava Sharkey, The Allan Well's Trophy for Excellence in Engineering Studies
Thomas Birt, Shield for Academic Achievement in Engineering
Jennifer Brayshaw, John Napier Award for Academic Achievement in Engineering
Automotive Engineering
Oliver Young, W T Boyd Cup for Best Motor Vehicle Craft Apprentice
Aaron Drysdale-West, Training Services Trophy - Motor Vehicle Apprentice of the Year
Aaron Anderson, Scottish Motor Trade Association Cup
Connor Inglis, The Donald Green Trophy - Best Overall Full Time Body Competences Student
Rowan Ewen, Automotive Engineering Prize for Academic Distinction
Alexander Whitehall, The Sandy King Quaich for Application and Achievement in the Motor Trade
Torran MacLean, UHI Perth Best Vehicle Body Repair Apprentice
Kenneth Madriaga, UHI Perth Award for Academic Excellence Motor Vehicle Engineering
Matthew Barry, Moray Firth Training Group (Inverness) Endeavour Award
Marcus Moore, Duncan McLean Quaich for Exceptional Performance in Vehicle Refinishing
Robert Reid, UHI Perth Shield for Excellence in Vehicle Accident Repair
Schools
George Beattie, Science, Technology, Engineering and Maths - Best Schools/College Student
Core Skills Awards
Gillian Geddes, Core Skills Communication Award for Outstanding Attitude, Attendance and
Performance
Nora Pinel Ortega, Core Skills Numeracy Award for Exemplary Attitude to Work
Lisa Hallyburton, Core Skills Information Technology Award for Outstanding Attitude, Attendance an
Performance
Bjork Lauridsen, Core Skills Award for Outstanding Attendance, Performance and Industry for
Higher English
Scott Burns, Core Skills Award for Outstanding Attendance, Performance and Industry for National 5 Maths
National Training Programmes
Angus McNicol, National Training Programmes Modern Apprenticeship 2022-2023