Construction Student Honoured at SBATC Awards
Fraser Anderson takes 'Runner Up' position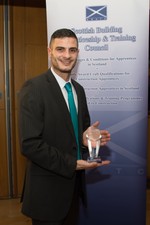 Perth College UHI student Fraser Anderson was recently shortlisted in The Scottish Building Apprenticeship and Training Council (SBATC) 2015 Apprentice of the Year Awards, with the winners announced at a prize giving ceremony in the Scottish Parliament's Members' Restaurant in December 2015.
The ceremony celebrated the skills and dedication of 14 apprentices who were nominated from across Scotland in four separate categories; Construction Specialist, Adult and Civil Engineering Apprentice of the Year Awards in addition to the prestigious James Birnie Award for Craft Excellence.
Fraser, who is 28, was nominated by his lecturers at Perth College UHI for the Adult Apprentice of the Year Award and during the ceremony, he picked up the prize for Runner-Up. Speaking about his student, Donald Kemp, Subject Leader for Construction said; "Since starting with us in 2013, Fraser has shown a real apitude for carpentry and joinery through his hand skills but also displayed a disciplined mind when it came to theory elements. We are very proud of his achievement's and know he will continue to impress."
The ceremony also enjoyed a keynote speech from the Minister for Youth and Women's Employment, Annabelle Ewing MSP, who stated that "Apprenticeships can make a huge difference to a young person's life, giving them a solid base to build their working lives from. These awards celebrate those apprentices who have grasped the opportunity offered to them and used it to propel their careers in Scotland's Construction Industry."
Click to find out more about our Built Environment and Science Technology and Modern Apprenticeships opportunities.