Students honoured at Graduation and Celebration of Success and Achievement
Nearly 300 graduates and award winners, together with their friends, family and guests enjoyed a warm congratulation on their achievements at the UHI Perth Graduation and Celebration of Success and Achievement 2023.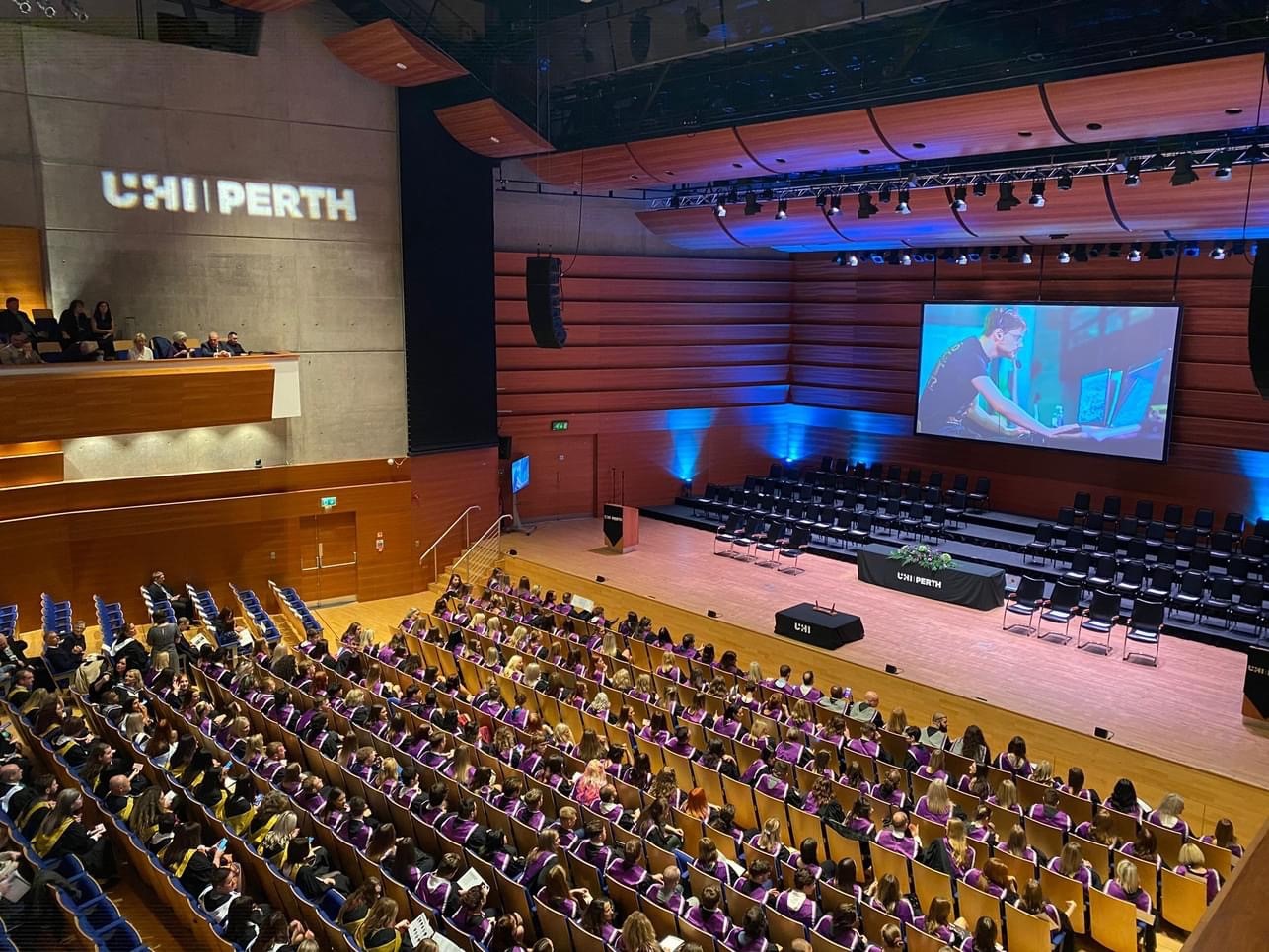 Held at Perth Concert Hall on Thursday 5 October, they were presented with their degrees, diplomas, certificates and awards.
Dr Margaret Cook, UHI Perth Principal, said: "This is one of the most important days in the UHI Perth calendar. It is a day which enables us all to celebrate student's successes and to wish them well for the future. Today marks the end of a very successful chapter of their lives and equips them to move on to future chapters."
In her welcome, she addressed the attendees: "I hope that you have enjoyed your experience with us and that you will remember your time here. I am sure you will remember the support from staff and the friends you have made along the way. Many friendships made here will last a lifetime. We are all very proud of you and of your achievements and I hope that you will keep in touch. Congratulations and good luck for the future, I hope you enjoy a truly memorable day."
The Keynote Address was supplied by Professor Gary McEwan, Chief Executive, Elevator. He explained: "I have a passion for supporting young people. My firm belief is that while academia did not work out well for me, it offers a great grounding for life. Life for me has come full circle. My practical experiences have become useful to students, and I am eager to help them avoid the pitfalls. While my prelims were the pinnacle of my academic achievement, I took a different path and found my way back to academia with a backpack filled with different things."
Katie Long was awarded UHI Perth Alumnus of the Year. The owner of Brown and Black's Restaurant in Scone said: "I live and breathe hospitality, it's all I have ever known. Our focus is on offering our customers great service that makes them want to return time and time again."
The audience enjoyed an entertainment interlude from UHI Perth Musical Theatre Students, before the Opening of the Ceremony by Professor Neil Simco, Deputy Principal Academic and Research, University of the Highlands and Islands.
The Graduation and Celebration of Success and Achievement of UHI Degrees, Diplomas and Certificates was followed by SQA Certificates and Diplomas and Awards for individual achievement. The closing address was given by Mr Graham Watson, Chair, Board of Management, UHI Perth.

At the end, alumnus Dener Norris offered a Student Vote of Thanks. Dener studied Events Management and produced exceptional academic work throughout his time at UHI Perth. He also offered outstanding levels of support to his student peers and tirelessly campaigns for fairness, inclusivity and diversity in the hospitality industry. He is now Assistant General Manager at The Ivy Buchanan Street, Glasgow.
He said: "It's an honour representing so many voices in this very special day for all of us."
The Academic Procession and Class of 2023 went through the city centre, alongside the Perth and District Pipe Band, Xander McDade, Provost of Perth and Kinross and the Society of High Constables Perth reflecting the partnership between 'town and gown'.