Sport and Fitness students run health event for school pupils
On Wednesday 30 January, a student led 'Happy Perth, Healthy You' event took place at Perth College UHI's Academy of Sport and Wellbeing. Twenty HNC Coaching and Developing Sport students, and four Sport and Fitness Ambassadors, worked together to organise and co-ordinate the event, which was designed to engage young people from across the community with a range of interactive health, wellbeing and fitness activities.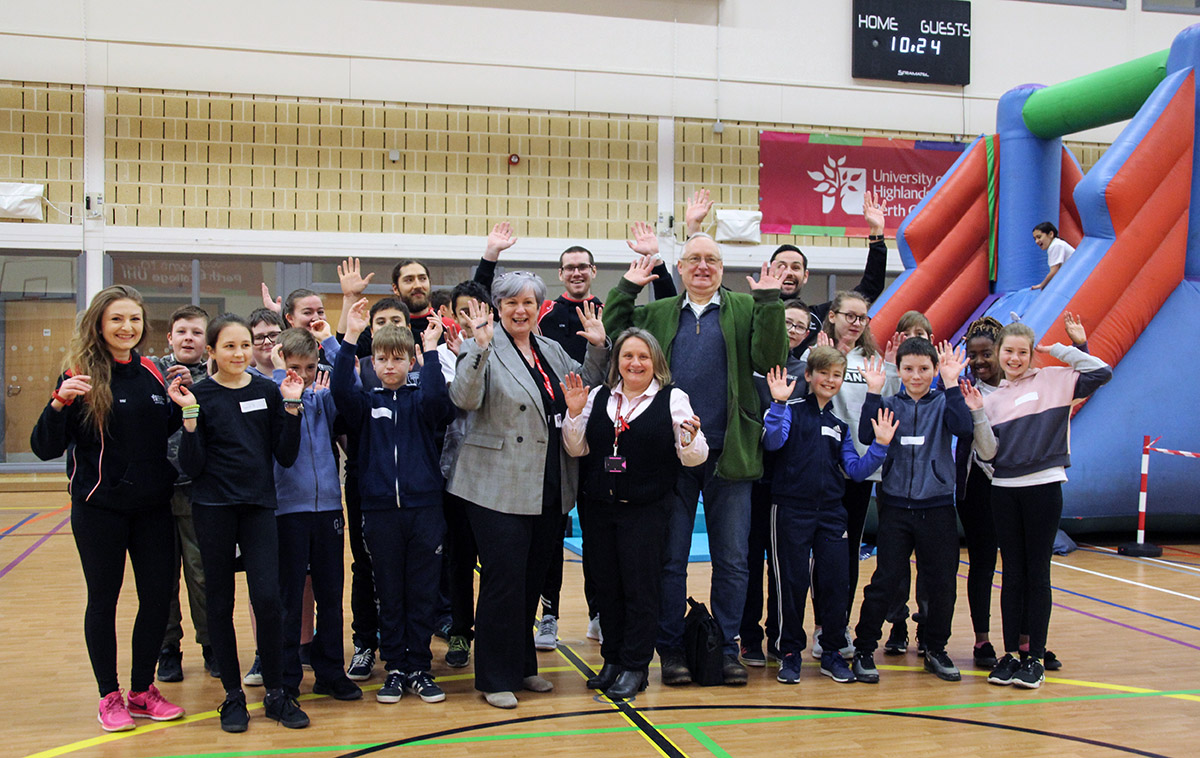 Over 200 pupils from local Primary and Secondary schools enjoyed a range of activities including: inflatable activities, fitness challenges, bouldering and inclusive activities (Boccia and Kurling).
A number of local organisations attended on the day including: PKAVS, representatives from the Academy of Sport and Wellbeing and the NHS POST Team, who were on hand to provide advice about nutrition. The Perth College UHI Food Studies and Hospitality, Hairdressing, Beauty Therapy departments also attended to showcase their skills with smoothie making, beauty treatments and hair demonstrations.
Perth City Action Partnership funded the event as part of the Perth Decides initiative, which facilitates funding for community projects as voted for by the local community. Councillor Andrew Parrott attended the event on behalf of Perth City Action Partnership.
Lewis Melloy and Pavlina Pajorova, BSc (Hons) Sport and Fitness students and Sport and Fitness Ambassadors, commented: "This has been an excellent opportunity to organise an event and has allowed us all to gain tremendous experience in a number of areas, from filling out the funding application forms to planning, delivering and evaluating the event.
"It has been stressful at times but we have received a great deal of support from our lecturers. A huge thanks to Sharon McGuire, Sector Manager - Sport and Fitness, and Dale Robertson, Sport and Fitness Lecturer, who have supported and guided us throughout process. We would also like to thank Erin and Conal, our fellow Sport and Fitness Ambassadors, for their valuable contribution to this event.
"If anyone gets an opportunity to apply for Perth Decides funding in the future, from our experience I would highly recommend doing so - there are so many benefits."
Dale Robertson, Sport and Fitness Lecturer, Perth College UHI, added: "This has been a fantastic experience for our ambassadors and students. It has showcased a collaborative approach not only across the courses in Sport and Fitness but College wide, including the Food Studies and Hospitality, Beauty Therapy and Wellbeing and Hairdressing departments, as well as engaging with local organisations to benefit the Perth community.
"The students really have made and delivered this opportunity themselves from the application for funding right down to the last bounce on the inflatable assault course! Thanks has to go not only to our students but also Perth Decides and all the organisations and college sectors that contributed to make the event happen."