Teamwork at Diverse CiTay Festival
On Saturday 23 June, Diverse CiTay Festival took place as part of the Scotland's Year of Young People celebrations happening throughout 2018. Perth College UHI was proud to be a key partner in the event, in collaboration with Perth & Kinross Council and Horsecross.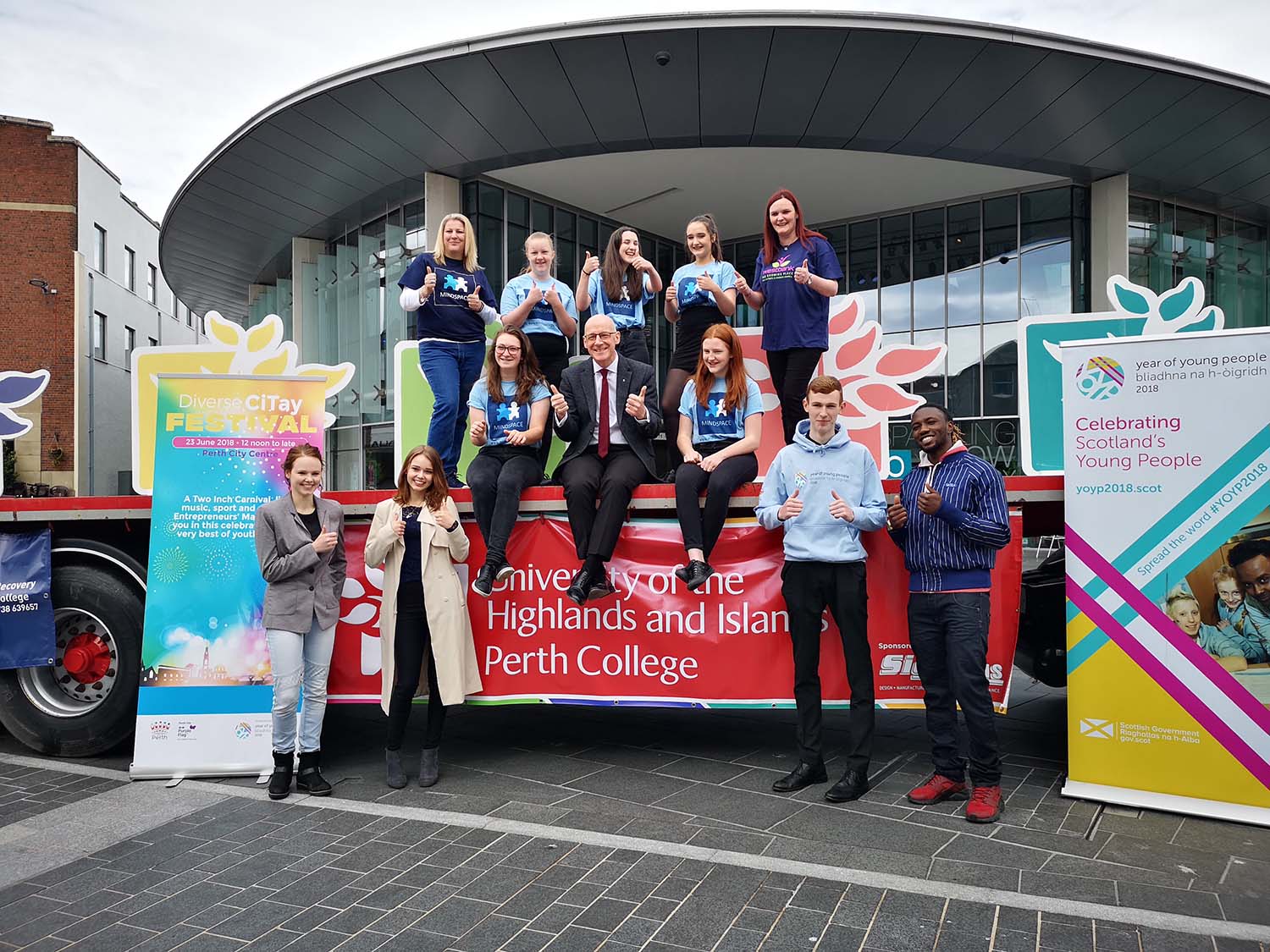 Students and staff from several departments including Food Studies and Hospitality; Sport and Fitness; Hairdressing; Creative Industries; and Beauty Therapy showcased their talent in the Health, Sport and Wellbeing Village, which was co-organised and supported by staff from Perth College UHI's Academy of Sport and Wellbeing.
Activities included mock tails, hair ups, climbing, bubble football and yoga. Also on display was a piece of artwork produced by Creative Industries students, originally commissioned for the BBC Biggest Weekend event held at Scone Palace earlier this year.
Collaboration between local young people, charities and organisations, resulted in a vibrant procession from South Inch to North Inch with over 15 partners involved including; Perth and District Pipe Band; Fair City Rollers; Pink Saltire; Letham Majorettes; SHIP; RASAC; Perthshire Pride – Glow; Fair City Baton Twirlers; Adventure Circus; Mindspace; Adlib Dance; Girl Guiding Perth and Kinross; and Alpha BC.
The Perth College UHI carnival float was designed by BA (Hons) Visual Communication and Design students, Sarah Mathew and Sofia Olearova, in collaboration with the Perth College UHI Marketing team and staff from the Built Environment department. Students, apprentices and young people who are staff at the College brought the float to life with help from local band Rhythm Wave - founded in 1993 by Ronnie Goodman, a music lecturer at Perth College UHI.
Veronica Lynch, Vice-Principal, External Engagement at Perth College UHI, said: "Perth College UHI were delighted to be one of the key organisers of this festival. It was inspiring to see so many young people show their talents in music, sport, design, creativity, and enterprise. This event provided an excellent opportunity to showcase the skills of young people and inspire the next generation to achieve their full potential. This event would be a welcome addition to the cultural calendar in Perth city."
Gareth McKenna, co-organiser of the Diverse CiTay Health, Sport and Wellbeing village and Commercial Director of the Academy of Sport and Wellbeing at Perth College UHI, added: "It has been a great pleasure to have worked with so many young people who have brought this event alive including our incredible students. To highlight diversity in Perth and provide a great day of activities for the community of Perth and further afield is a tribute to the innovation and hard work of so many young people and other partners. Many thanks to Event Scotland for having faith in this event and to Perth and Kinross Council who have been fabulous to work with."
Thank you to the following companies for their help with the Carnival Parade and Health, Sport and Wellbeing Village: McLaughlan Transport; Morris Young Ltd; Mindspace; SHIP; Sign Plus; Perth High School; Murrayfield Hay and Haylage; and Dragonfly Yurts.