Sports Students Helping the Elderly in Care Homes
Perth College UHI Sport and Fitness staff and students provided a new physical activity programme to five care homes in Perth.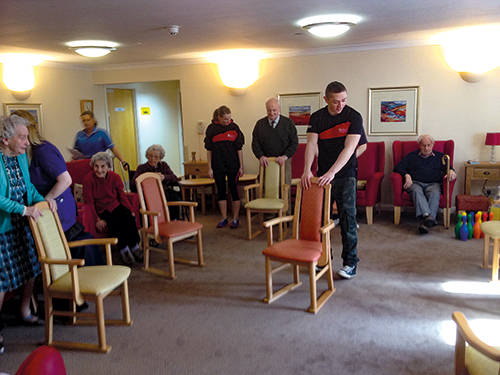 Our Sport and Fitness Lecturer, Lisa Dods explained "We set up a new HND fitness, health & exercise course in September 2014. As part of that, students work with 'special population groups' and on this occasion, the choice was older adults."
There was praise from residents, staff and students with impressive results. One resident managed five 'sit to stand' exercises in week one, but by the end of the programme, he could do 13. Most homes started with five or six participants, but by week 12, some had up to 18 people taking part.
Rehabilitation Consultant at the Care Inspectorate, Edith Macintosh said: "Having heard about the very positive outcomes, this is a model which could, and should, be replicated in other areas in Scotland. Care homes and students working together in this way can enable older people to be more physically active, which makes a significant difference to their overall health and well-being."
Meanwhile, Lisa is delighted with the progress. "The whole thing worked even better than we imagined," she said.
The aim is to revise the programme next year, introducing individual plans for each resident and staging sessions twice a week rather than once.