Perth lecturer honoured in student awards
Issued 27 July 2015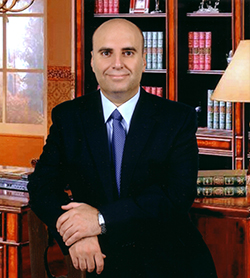 A Perth College UHI Aircraft Engineering lecturer has been honoured in the sixth annual University of the Highlands and Islands' Student Association Awards. Dr Qusai Al-Hamdan at Perth College UHI won the Best Personal Academic Tutor award.
One student explained: "Over the past academic year, Dr Al-Hamdan has provided invaluable guidance and support to both me and my fellow students in his role as Personal Academic Tutor. I found him to be an engaging and enthusiastic lecturer who had a clear passion for the subjects. To him, no question is stupid or too obscure; he always endeavours to ensure every student has the best understanding possible.
"Dr Al-Hamdan has made it clear to all of his students that, should they ever need to talk to him about anything (be it academic or guidance-related), he will always be there to listen and help where possible and this is a stance he has been unfaltering in."
Margaret Munckton, Perth College UHI Principal and Chief Executive, said: "This is a great achievement for Dr Al-Hamdan and recognises the dedication and effort he puts in to his Personal Academic Tutor role, providing students with academic support during their studies. Offering a great student experience is what we continually aspire to, and our lecturers are vital to our efforts in achieving this."
Dr Iain Morrison, the University of Highlands and Islands' Dean of Students, added: "I would like to congratulate everyone who was recognised in our teaching awards. The winners were chosen by the people who matter to us most - our students. Each winner, along with the many other nominees, should be proud of the positive impact they've had on the learners in our region. Students are at the heart of what we do and our wonderful lecturers and professional services staff are critically important in helping them achieve as much as they can."
Perth College UHI and the University of the Highlands and Islands were one of the first institutions to work with the Higher Education Academy and National Union of Students to introduce student-led teaching awards. They have now been adopted throughout most of the United Kingdom. Dr Al-Hamdan will receive a trophy and certificate in recognition of his work at the Perth College UHI Graduation Ceremony at Perth Concert Hall on 1 October.