CUC Summer Program Japan 2015
Chiba University of Commerce in Japan are offering 2 lucky students per University the chance to undertake a course July 12th to July 26th. Universities from Australia, Canada, China, India, Korea, Russia, Taiwan, USA and Vietnam.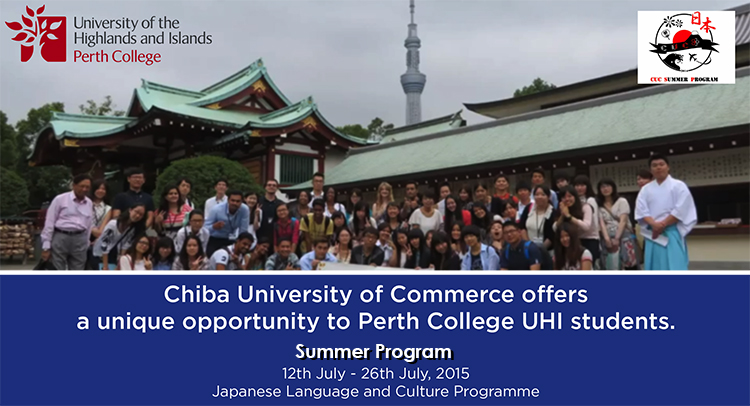 Undertake a Japanese Course and receive financial support for tuition, accommodation and meals (except on weekends). Students pay for cost of travel.
To Apply:
Please fill out the application form and send all applications together to the CUC International Center by email: interex@cuc.ac.jp
If there are any accompanying professors, they must also fill out the application form.
Please attach the PDF files of the participants' passports to the email.
We would appreciate it if you could inform us whether or not those participating in this program from your university need a visa to come to Japan. If so, in order to obtain a visa, you will need an invitation from CUC.
We ask all students of the university participating in the CUC Summer Program to come on the same flight on July 12th. Please arrive at either Haneda or Narita airport by 4 pm on July 12th.
If you arrive at the airport after 4pm, we have to ask you to come to CUC by yourselves.
Please select a student leader of your university as a contact person, and give us his/her contact information.
All participants must buy their traveler's insurance which covers the duration of the trip, from the departure date to the date of return to their home country. Please send us the PDF files of their insurance policy by July 6th.
Application Deadline: 15th May, 2015 (if you miss this deadline contact International Centre Manager Dolores Garden to discuss, email: Dolores.Garden.perth@uhi.ac.uk)
For further information contact Naomi Takemura International Center, Chiba University of Commerce email: n-take@cuc.ac.jp