News and Important Information
Guidance on how to apply to the EU Settlement Scheme (settled and pre-settled status) content
Guidance on how to apply to the EU Settlement Scheme (settled and pre-settled status)
Guidance on how to apply to the EU Settlement Scheme (settled and pre-settled status)
Guidance on how to apply to the EU Settlement Scheme (settled and pre-settled status)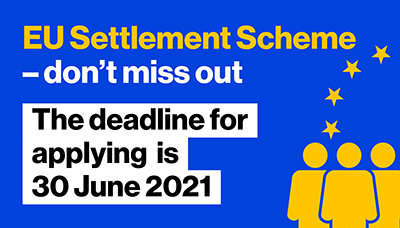 The Home Office website explains the application process and details the documentation that you will be required to submit in support of your application for pre-settled or settled status.
When you have successfully obtained EU settled or pre-settled status, you need to provide the University with evidence. To prove your immigration status to the University, you will need to obtain a 'share code', please refer to the gov.uk page on immigration status to obtain this. A share code consists of both letters and numbers and is at least 9 digits long. You should also be aware that a share code is only valid for a period of 30 days. Once you have received your share code, please email this to the Student Records team at PCMIS.Perth@UHI.ac.uk.
Here are the steps you'll need to follow:
Apply for the EU Settlement Scheme.
When you have obtained EU settled or pre-settled status,
View your status and obtain a Share Code. The share code has a minimum of 9 characters and is valid for 30 days
Email your share code to Student Records: Perth@UHI.ac.uk
Official Information from Police Scotland
Scams and Frauds Targeting International Students
In recent weeks, Police Scotland have become aware of a number of incidents whereby students have been targeted by scammers attempting, and sometimes succeeding, of extorting and blackmailing large amounts of money from international students studying in Scotland. In some instances the scammers have pretended to be from a foreign embassy and have come across as genuine.
If you are ever contacted by anyone who states they are from an embassy or any other official government department, do not engage and don't sent them any personal details or money regardless of what they tell you.
Take Five to Stop Fraud
Criminals are experts at impersonating people, organisations and the police. They spend hours researching you for their scams, hoping you'll let your guard down for just a moment. Stop and think. It could protect you and your money.
Stop
Taking a moment to stop and think before parting with your money or information could keep you safe.
Challenge
Could it be fake? It's ok to reject, refuse or ignore any requests. Only criminals will try to rush or panic you.
Protect
Contact your bank immediately if you think you've fallen for a scam and report it to Police Scotland.
Please be aware and take the following steps to protect yourself:
Do not give out any personal information or credit card/ banking details over the telephone. No genuine caller will ever ask you to do this.
If in doubt about who is calling, hang up and find the advertised contact details for that agency. Do not redial the telephone number used to call you.
Do not click on any attachments or links provided in an email or text message.
If you think you have been a victim of a telephone or online fraud contact your bank immediately and report any suspicious activity to Police Scotland on 101 or 999 in the case of an emergency.
For further information about keeping safe, visit: https://www.scotland.police.uk/keep-safe/personal-safety/
www.scotland.police.uk/takefive
https://takefive-stopfraud.org.uk/advice/general-advice/impersonation-scam/
For further assistance you can contact Police Scotland on 101. We are here to help.
General fraud information available from the Chinese Consulate website.