History and People
content
How the WEEE Centre got started and who we work with
The beginning
The WEEE Centre was created in 2010 through an environmental Project funded by Perth and Kinross Council. The 12 month tender was to collect and recycle IT waste from a designated container at Friarton Community Recycling Centre. Four members of staff were employed for 6 months each, funded through a government employability programme called 'Future Job Fund'. Our technician Ryan was taken on by this project, and is now employed by Perth College to continue the programme. Since opening we have diverted around 57 tonnes of waste from landfill through refurbishment and resale or recycling. Approx 7 tonnes per year.
Perth College diverts all IT equipment that is being replaced as part of their IT refresh cycle through the WEEE Centre, as part of their waste management programme.
Current Team
The current team is made up of our Technician Ryan Carle and National Training Programmes and Employability Manager Sarah-Jane Urquhart.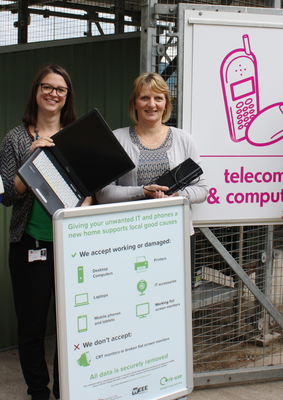 Our Partners
Perth and Kinross Council supported the pilot project and continue to support our collection of IT Waste from local Household Waste Recycling Centres.
CCL North is an approved authorised treatment Facility (AATF) providing secure WEEE and IT recycling services for Corporate, Educational and Government bodies throughout UK and Ireland.
Re-Tek is an IT disposal and asset retirement business that reuse and recycle WEEE waste.
These partners provide educational visits to their facilities for students.
Perth and Kinross Network of Charity Shops and Reuse Projects. We are a member of the network that tries to help share best practice in the reuse sector, and as new opportunities arise to help the sector grow.
Local and International Charities. The WEEE Centre has donated IT equipment and funds to local and African charities, including Still Water Perth and Computers for Africa.
Student Testimonials
Our computing students have the opportunity to work in the WEEE Centre, to develop their practical skills, this is what they think of it...
I really enjoyed the WEEE Centre. It was a good experience teaching hands-on skills, Ryan, the technician, was very supportive and it's a good environment to learn in.
Being at the WEEE Centre has made me consider looking for a job in the computing industry since I really like to be hands on with computers and love the practical side of computing.
Each time I was working there, I was presented with a new challenge and learned something new every time.
It has really helped with both my technical and social skills. I now feel able to use my skills in other places and I also realise they will help in the future of my education and then into my working life. The WEEE centre has shown me I can work in a proper working environment.
The placement has pushed me out of my comfort zone which has caused me to grow as a person.
I lacked confidence with computer hardware. This is no longer the case, after a lot of hard work and asking questions I now feel comfortable and confident enough to make repairs to PC's, dismantle and recycle parts and install software.
After my first visit to the WEEE Centre I noticed a massive change in my ability to not stress about doing the wrong thing all the time, Ryan really helped me believe that it is ok to make mistakes and learn from them.
I am enormously proud of myself. I received the WEEE award for excellence this year. This is such a good feeling, to be rewarded after working so hard. The confidence that I lacked at the beginning of my work experience has become excitement for the subject. I enjoyed every minute and it's something I will never forget.
The skills and confidence I have learned at the WEEE Centre have been priceless. These skills are transferable and can help me in a lot of jobs. The confidence will definitely improve the way I feel about the job I can do in any work place.
At the start of the year a lot of the boys in the class had some experience with computer hardware and in a lot of conversations I felt I couldn't participate, now I know more and I can participate and ask questions.
It made me feel like I was a technician and since the place is filled with computer parts it also made me feel like a kid in Lego Land.
I thought that we would get our hands held throughout the tasks given. When Ryan, the technician, first told me to do something and then just went to continue on with his own work I felt like he had really trusted my ability to complete the task without any supervision at all, which also motivated me to give it all I've got.
I can say that the WEEE Centre was sort of a mandatory treat.