Paula Richards
content
Subject Leader for Hairdressing
Roles
Leader for the hairdressing academic area. Responsible for providing specialist academic leadership to ensure a high quality student experience and success rate.
Responsible for
Academic Leadership and Teamwork
Learning, Teaching, Assessment and Scholarship
Planning, Quality Assurance and Quality Enhancement
Manage staff
Qualifications
Masters in Education
BA Professional Development
HND Make-up artistry
HNC Hairdressing
Contact
01738 877652
Room 956 in the Academy of Sport and Wellbeing
Teaching subjects
FE and HE Hairdressing skills
School delivery of Skills for Work programs
Technical/Research interests
Education pedagogy
Learning approaches and teaching methods
E-learning tools and practices
Employment history
UHI Perth
Telford College
STV studios
John Freda hair salon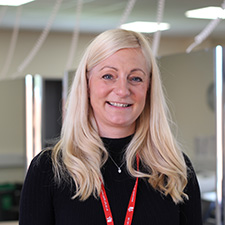 Staff Spotlight content
Staff Spotlight
Paula Muir is the Subject Leader for hairdressing. She has a wealth of knowledge about working in the hairdressing sector.
She has worked for some of the top salons in the UK, including John Frieda and Cheynes salons. She has experience in all aspects of hairdressing including hair shows, magazine work and working for STV studios as a Make-up Artist. Her work has also been featured in the Hairdressing Journal.
Paula's knowledge and experiences will enhance the students journey into the exciting world of hairdressing.