Sporting Blues awarded to four Perth students
Four Perth College UHI students have recently been awarded Sporting Blues by Highlands and Islands Students' Association.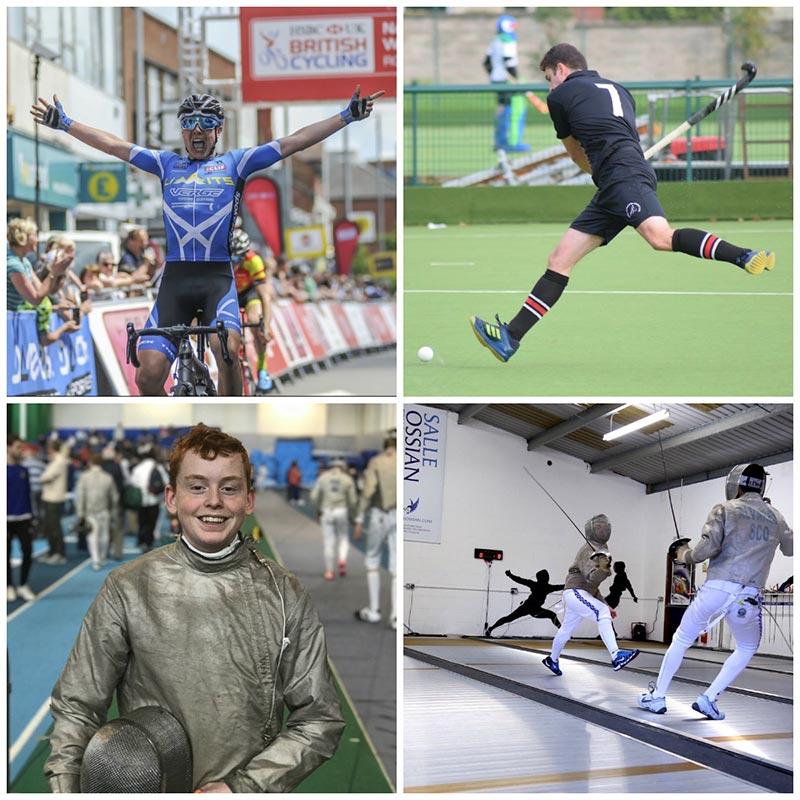 Blues are used to highlight the outstanding sporting achievement of UHI students, these prestigious awards are presented to sportsmen and women who attain an exceptionally high standard of performance in their sport.
Fergus Sandison and Alfie George were both awarded Full Blues. In addition to completing the final year of the BSc (Hons) Sport and Fitness degree at Perth College UHI, Fergus represented the Scotland Men's Indoor Hockey Team at a European Championships earlier this year.
He commented: "It is a great honour to have my sporting achievements recognised in this way by the University, as the support I have received from my lecturers and fellow students over the past four years has helped me to achieve what I have achieved."
Fellow Full Blue winner Alfie George is part of the Great Britain Cycling Team Junior Academy.
Alfie, a student on the NC Business course, commented: "I am very proud to win this award in recognition of my sporting activities, it shows how studies and sport can be combined and highlights the University of the Highlands and Islands' interest in sporting pursuits as well as academic ones."
A Half Blue was awarded to NC Sport and Fitness student, Toby Carter. During his time at Perth College UHI, Toby represented Great Britain at the Junior (Under 20) World Cup Fencing Championships in Paris, France and Dormagen, Germany. He was the youngest member of the Senior Men's Sabre Team selected to represent Scotland in the 2018 Senior Five Nations Fencing Championships held in Cardiff, and finished this fencing season as Scotland Number 1 in the Senior Men's Sabre Rankings.
Toby will represent Scotland at the upcoming Junior (Under 20) Commonwealth Fencing Championships in Newcastle in both the Individual Event and as Scotland Number 1 in the Men's Sabre Team Event, where there will be 450 competitors from 20 Commonwealth Countries in attendance.
Toby commented: "Being recognised by the Highlands and Islands Students' Association by being awarded a Half Blue for my efforts and successes in fencing means the world to me! I have only been able to compete at the level and frequency that is needed to allow me to achieve what I have due to the understanding and support of my lecturers who I would like to thank very much."
An Honorary Blue was awarded to Stephen Milne, Olympic Swimmer and former student, for his outstanding achievements.