New equipment to support disabled sports at Perth College UHI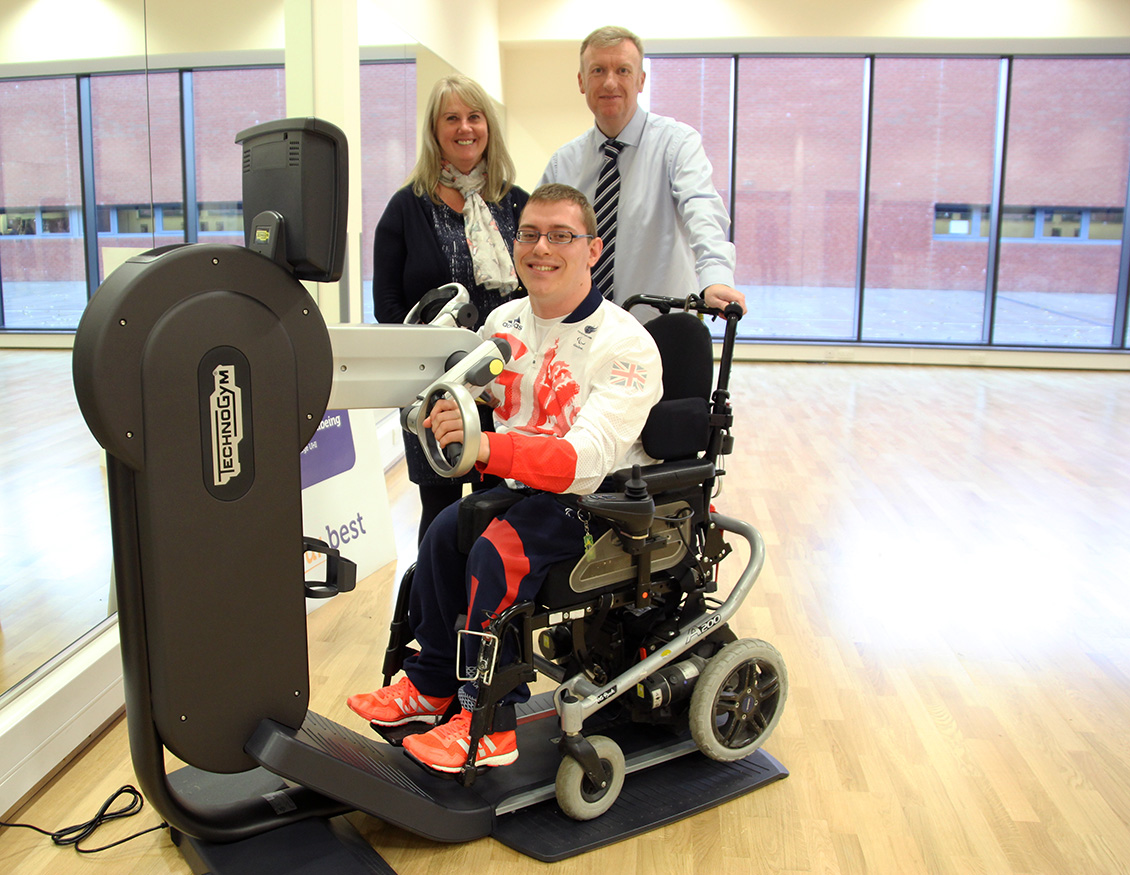 An exciting collaboration between a number of key organisations including Scottish Disability Sport and Perth College UHI has enabled Rio 2016 Paralympian Joshua Rowe (23) from Perth to train on a specialist hand-bike as part of his strength and conditioning regime.
Joshua, who has cerebral palsy, has played Boccia, an indoor target ball sport similar to bowls for 10 years. Up until recently, he has had to travel outwith Perth to access the specialist hand-bike which is fully wheelchair accessible. Now thanks to the funding from Education Scotland and Awards for All, Joshua can access the equipment at the new Academy of Sport and Wellbeing at Perth College UHI.
Perth & Kinross Disability Sport - a member branch of Scottish Disability Sport - who have recently appointed Caroline Ness as their new Project Manager have been instrumental in ensuring all partners collaborated effectively to secure the successful outcome that is now meeting Joshua's training needs.
Joshua said: "To have a hand-bike for my training to use here in Perth is amazing. It's an important part of my overall fitness regime and having recently returned from the 2016 Rio Paralympics, I look forward to being able to use it to improve my muscular endurance, mobility and overall fitness even further in my quest towards competing at the 2020 Tokyo Paralympics."
Helen Duncan, Perth College UHI Equality Outcomes Advisor added: "Here at the new Academy of Sport and Wellbeing, we are delighted to support Joshua with his training. He is an Ambassador for the Academy and we are looking forward to playing a key part in developing wider opportunities for disability sport both regionally and nationally".
The £7.5 million new Academy of Sport and Wellbeing provides extensive hair and beauty, sport and academic facilities for students, staff and wider community groups.
Joshua added "I sincerely hope that others will be inspired to use the hand-bike to improve their fitness and benefit from the use of this amazing inclusive piece of equipment. I would like to especially thank Education Scotland and Awards for All for generously providing the funding for the bike and everyone at Perth & Kinross Disability Sport and Scottish Disability Sport for all their work with this project. I'd also like to thank Perth College UHI for finding a home for it within the new Academy for Sport and Wellbeing.