Perth College UHI Campaigning for Landmark Spot in the New Perth and Kinross Monopoly Edition
Celebrating Monopoly's 80th Anniversary, Perth and Kinross has come out top for the next regional Monopoly Edition. 19 other regions including St Andrews, Stirling and Ayr were in the running.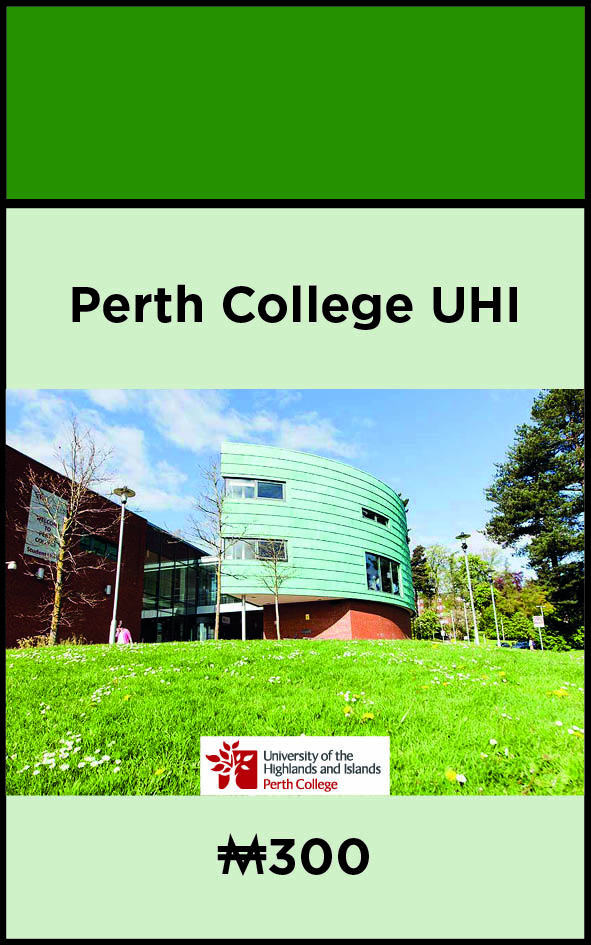 Perth College UHI is now campaigning to be featured on the Monopoly board. Here are our top reasons why you should vote for Perth College UHI :
First opened in 1961 the College has come a long way and is now a large partner in Scotland's newest University, the University of the Highlands and Islands. One of Scotland's leading Colleges of Further and Higher Education with over 8000 students currently enrolled.
Perth College UHI invests heavily in their facilities and on their campus, making Perth College UHI the ideal place to study. Construction will start August 2015 for a new Academy for Sport and Wellbeing, an exciting current development for Perth College UHI.
Perth College UHI are a major employer within Perth and Kinross. Also an accredited Living Wage Employer.
Perth College UHI Principle and Chief Executive Margaret Munckton said: "It is wonderful that Perth and Kinross has won the vote out of the 20 regions competing. We have a lovely campus in the city centre which is used daily by thousands of people. Whilst contributing to our economy and society, of course we deserve a place on the board."
Monopoly executive Graham Barnes from Winning Moves, the company producing the board, said: "Many congratulations to Perth and thank you to everyone who voted. Scotland's ancient capital will make a great board we are absolutely sure."
Places such as Scone Palace, Perth Theatre and Perth Racecourse are also being considered to be featured on the board.
Support Perth College UHI on Friday 8th May till Sunday 7th June.
To show your support: email perth@winningmoves.co.uk or at www.facebook.com/perthmonopoly or via post to Perth Monopoly, Winning Moves UK, 7 Praed Street, London W2 1NJ.
Here is some sample text (just copy and paste in your email):
"I would like to support Perth College UHI to be featured on the latest edition of the Monopoly game."
You can also show your support on Twitter #perthcollegeuhi #monopolyvote
Final product will be available in October.
Let's get the word out!