OBI Awards
Recognising Perth College UHI's Outstanding, Best and Inspiring staff and students! content
Recognising Perth College UHI's Outstanding, Best and Inspiring staff and students!
In its 9th year, the OBI (Oustanding Best Inspiring) Awards are a chance for us to celebrate the amazing staff, students and student groups that help make Perth College UHI a fantastic community.
Perth College UHI staff and students can nominate in the awards in various categories celebrating teaching staff, non-teaching staff, Personal Academic Tutors, Student Voice Represenatives and Sports Clubs and Societies to name a few.
A panel made up of staff and students at Perth College UHI, including the HISA Perth student officers, then decide the winners that are annouceed at an awards ceremony.
We are pleased to announce the list of nominees for the OBIs 2022. Winners will be announced at our awards ceremony on 1st June - details to follow!
Below is a summary of some previous years of the OBIs. For more information, please email hisa.perth@uhi.ac.uk
OBIs 2021 content
OBIs 2021
OBIs 2021
Representatives of the Highlands and Islands Students Association at Perth College UHI hosted their annual OBI Awards on Friday 28 May - bringing students and staff together online despite ongoing challenges due to COVID-19.
The HISA Perth team transitioned the celebration online for the first time in 2020, to ensure the winning staff and students were given the recognition they deserved throughout the pandemic. An integral aspect of the Perth College UHI calendar, the OBI Awards acknowledge the Outstanding, Best and Inspiring staff and students, who dedicate their time to making the college more diverse and inclusive for all.
The awards allowed students to nominate in nine different categories from 'Most Inspiring Lecturer' to 'Best Student Event', and entries were judged by a panel consisting of staff, students, and student officers from Perth College UHI.
Commenting on the OBI Awards, HISA Perth President, Alex Wilson, said:
"Despite the challenges both staff and students have experienced, we were overjoyed to see the number and quality of nominations we received this year and how much our college community has supported each other during these difficult times.

"We were keen to replicate the face to face awards ceremony we would normally have in an online setting, so we're pleased that some of the nominees were able to make it along and give their thanks. Our biggest thanks go to those who took the time to submit a nomination form - this year more than ever it has meant a lot to those who received them."
Dr Margaret Cook, Perth College UHI Principal, added:
"The past year hasn't been easy for our staff and students, but the OBI Awards shine a light on the very best of college life. There were many outstanding testimonials describing the excellent work of our staff and students that contribute to the student experience in Perth, and we are so appreciative of those that have helped us to foster a supportive college community throughout the challenges of the pandemic. We congratulate all those who were awarded an OBI, recognising the best, most inspiring and outstanding people within Perth College UHI."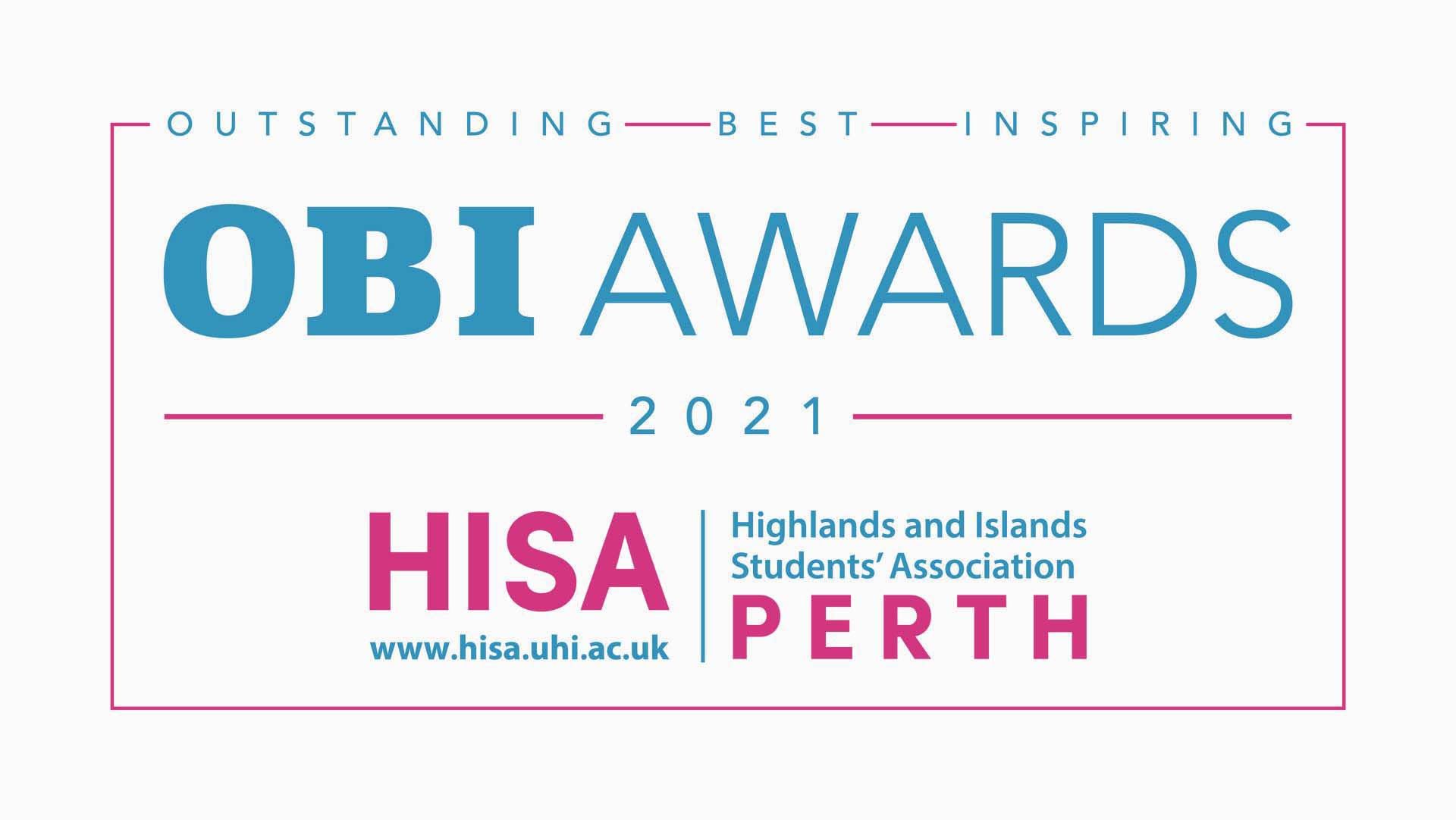 This years winners were:
Most Inspiring Lecturer: Kirstie Burn and Chris Heaney
Best Personal Academic Tutor: Scott Innes and Tracy MacGregor
Best Class Representative: Sarah Melvin and Lawrence Mullen
Most Inspiring Student: Debora Lato and Elliot Ralston
Outstanding Feedback: James Alexander and Laura Kelly
Outstanding Support Award (Non-teaching): David Gourlay
Best Research or Dissertation Supervisor: Nick Green
Best Club or Society: ESOL Book Club
Best Student Event: The Christmas High Tea organised by Professional Cookery
Best Overall Student: Winfrida Mwongela and Elliot Ralston
OBIs 2020 content
OBIs 2020
OBIs 2020
The winners for the OBI Awards 2020 were:
Award
Winners
Most Inspiring Lecturer
Lewis Cairns
Tracy McGregor
Neil Mugg
Fiona Stewart
Best Personal Academic Tutor
Scott Innes
Rhona McCluskey
Tracy McGregor
Kyle Smith
Outstanding Research or ​Dissertation Supervisor
Nuria Camps
Lesley McKee
Best Class Representative
Adam Fodor


Lukasz

Leus

​




Winfreda

Mwongela

​




Holly Richardson

​

Most Inspiring Student

Michaela

Asisten

​


Dener

Pereira

​




Catriona Shand

​




Tomazs

Wysocki

​

Outstanding Support Staff (Non-Teaching)

Maria Ramirez

Jiminez

Best Student-Led Event

'Living and Dying in Iron Age Caithness'​

Perth Archaeology and History Society​

Singalong Movie Night​

Hospitality and Professional Cooking Students​

Club or Society of the Year
ESOL Book Club
Best Overall Student

Michaela

Asisten

​


Dener

Pereira
OBIs 2019 content
OBIs 2019
OBIs 2019
The winners of the OBI Awards 2019 were:
Award
Winners
Most Inspiring Lecturer

Kirsty Cassells - BMCL
Ronnie Dewar - ALS
Yunior Perdomo - CI
Norman Brunton - STEM

Best Personal Academic Tutor
Kathryn Lynborg - BMCL
Brenda Marshall - ALC
John McRitchie - STEM
Best Class Rep
Joanne Nicoll - BMCL
Ruta Urbane - ALS
Klaudia Bohatyrewicz - STEM
Most Inspiring Student

Alannah McDougall - BMCL
Kinga Kierzkowska and Evelyn Taylor - ALS
Michelle Wangui - CI
Carly Ratray - STEM

Outstanding Research and Dissertation Supervisor
Ronnie Dewar
Outstanding Feedback and Learner Support
Caroline Cowe
Learning Centre Staff
Fermin Vidal
Club/Society of the Year
Archaeology and History
Best Support Staff
Ian McCartney
Best Student Led Event
Culloden Memorial Event
Overall Outstanding Student
Evelyn Taylor
OBIs 2018 content
OBIs 2018
OBIs 2018
The winners of the OBI Awards 2018 were:
Award
Winners
Most Inspiring Lecturer
Liz Courtney - BMCL
Shona Hedley - ALS
Greg McKenzie-Milne - CCI
Ahmad Ayub - STEM
Best Personal Academic Tutor
Gavin Cooper - BMCL
Norman Wilson - ALS
Richard Smernicki - CCI
Robert Kay - STEM
Best Class Representative
Nikki Houghton - BMCL
Dionne Netherington - ALS
Silvia Jarabekova - CCI
Most Inspiring Student
(staff nominated)
Audrey McEwan - BMCL
Craig Lithgow - ALS
Joshua McGrath - CCI
Most Inspiring Student
(student nominated)
Carol Oswald - BMCL
Gemma Martin - ALS
Kinga Kamrowska - CCI
Outstanding Support
Becky Angus and Craig Lindsay
Outstanding Learning Centre Staff
Susan Carter and Sue McNab
Most Improved/Developed Club or Society
Basketball Club
Best Student Led Event

Guide Dogs Fundraiser - NC Accounting

Bet Overall Student

Dionne Netherington
OBIs 2017 content
OBIs 2017
OBIs 2017
The winners for the OBI Awards 2017 were:
Award
Winners
Runners- Up
Most Inspiring Lecturer
Simon Fraser - BMCL
Caroline Cowe - ALS
Katy McClements - CCI
Ricky Neil - STEM

Laura Kelly - ALS
Diana King - ALS
Yunior Perdomo - CCI

Best Personal Academic Tutor
Helen Doig - BMCL
Angela Lindie - ALS
Zack Moir - CCI
Ricky Neil - STEM
Best Class Representative
Rachel Johnston - BMCL
Eilidh Talbot - ALS
Nikolay Gluhchey - CCI
Robert Sweeney - STEM

Most Inspiring Student
(staff nominated)

Pavlina Pajorova - BMCL
Gary Dobbin - ALS
Gary Sturrock - STEM
Julia Wolniak - ALS
Most Inspiring Student
(student nominated)
Stephanie Calderwood - BMCL
Helena Kmiecak - ALS
Ewan Petrie - CCI
John Wells - STEM
Thelma McNaught - BMCL
Heather Ratcliffe - ALS


Outstanding Support

Sam Monie
Janis Scott
Emma Simpson-Faichney

Outstanding Learning Centre Staff
Carole Walden
Most Improved/Developed Club or Society
Reading Club
Best Student-Led Event

Peugot

206 Project Car – Automotive Engineering

Collections for Good Causes – HNC AIT Group A

Best Overall Student

Stephanie Calderwood
OBIs 2016 content
OBIs 2016
OBIs 2016
The winners for the OBI Awards 2016 were:
Award
Winners
Most Inspiring Lecturer
Kathryn Lyneborg - BMCL
Veronica McIldowie - SLLE
Mark McSporran - CI
Irene Lawrie - HESS
Gary Gentles - EST
Best Personal Academic Tutor
Gisele Reid - BMCL
Jo Grant - SLLE
Lisa Lulis - CI
Suzanne Miller - HESS
Kevin Lamont - EST
Best Class Representative
Catherine Ruddy - BMCL
Kristina MacKenzie - SLLE
Annemarie Allan - HESS
Pamela Wilkinson - EST
Most Inspiring Student
(staff nominated)
Kirsty MacDuff - BMCL
Maria MacKay - CI
Ellie Jamieson - HESS
Most Inspiring Student
(student nominated)
Sam Finlayson - BMCL
Jemma Stewart - SLLE
Joshua McGrath - CI
John Gibson - HESS
Jenny Insley - EST
Outstanding Support
Linda Lamont
Scott Young
Most Improved/Developed Club or Society
Mens Basketball team
Best Student Led Event
Talent Show
Best Overall Student
Kristina MacKenzie
OBIs 2015 content
OBIs 2015
OBIs 2015
The winners for the OBI Awards 2015 were:
Award

Winners

Most Inspiring Lecturer

Liz Courtney - BMCL
Caroline Cowe - SLLE
Dave Paterson - CI
Debbie Corbett- HESS
David Adcock - EST

Best Personal Academic Tutor

June Schulte - BMCL
Caroline Cowe - SLLE
Andy Wardle- CI
Ronnie Dewar - HESS

SRC Award for Student Engagement

Liam Bruce - BMCL
Jacub Bernadic - SLLE
Stephanie Furlong - HESS
Mahtab Bilal – EST

Julia Rainer - CI

Significant Contribution to Quality Enhancement


Chelsea Cahill - BMCL
Jordane Marson - SLEE
Mahatab Bilal - EST

Outstanding Support

Janis Scott – International Centre
Emma Simpson – Learner Support

Most Improved or newly Developed Club or Society

LGBT+ Society

Best Overall Student Representative

Mahtab Bilal – Aircraft Engineering

OBI Certificate of Recognition

Liam Bruce – HND Sport and Fitness Student