Students shine in unique partnership competition
Hospitality and Professional Chef students at Perth College UHI proved they had talent to be successful in their chosen industry, after pitching their skills against experienced hospitality employees at a competition run by Sodexo – one of the world's largest catering companies.
The students won eleven awards at the Sodexo Salon Culinaire 2017 competition held at Hampden Park, Glasgow. The event showcases the best of Sodexo employee's culinary talent and the students were eligible to enter due to the unique sector-leading partnership Perth College UHI has with Sodexo. The students work alongside Sodexo staff in the College's Food Court, allowing them to get hands-on skills and real experience of what it's like to work in a busy kitchen and restaurant environment.
Ian Gibb, Hospitality Sector Manager said: "Although the students have just returned to College after the summer, they've been brushing up on their skills and topping up their confidence from their lecturers and mentors. The long hours of intensive training and their hard work, perseverance and persistence to achieve industry-award winning products has definitely been worthwhile and has paid off - what an amazing start to their studies this year!
"While at the event, the students took the opportunity to network with industry representatives and gained knowledge of future food trends, food route employment options and potential future employers. Our partnership with Sodexo provides an excellent opportunity for our students to enhance their experience and go out into the industry 'work ready'."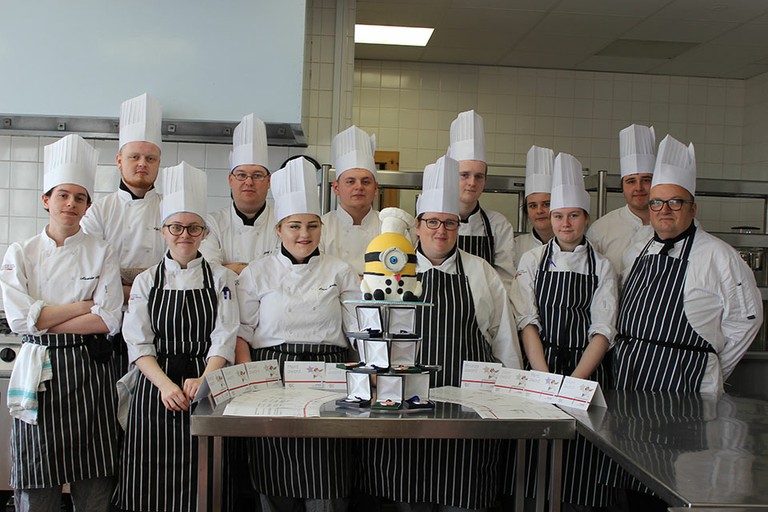 The winning students back in Perth College UHI's training kitchens.