Perth College UHI centre wins national award for sustainable project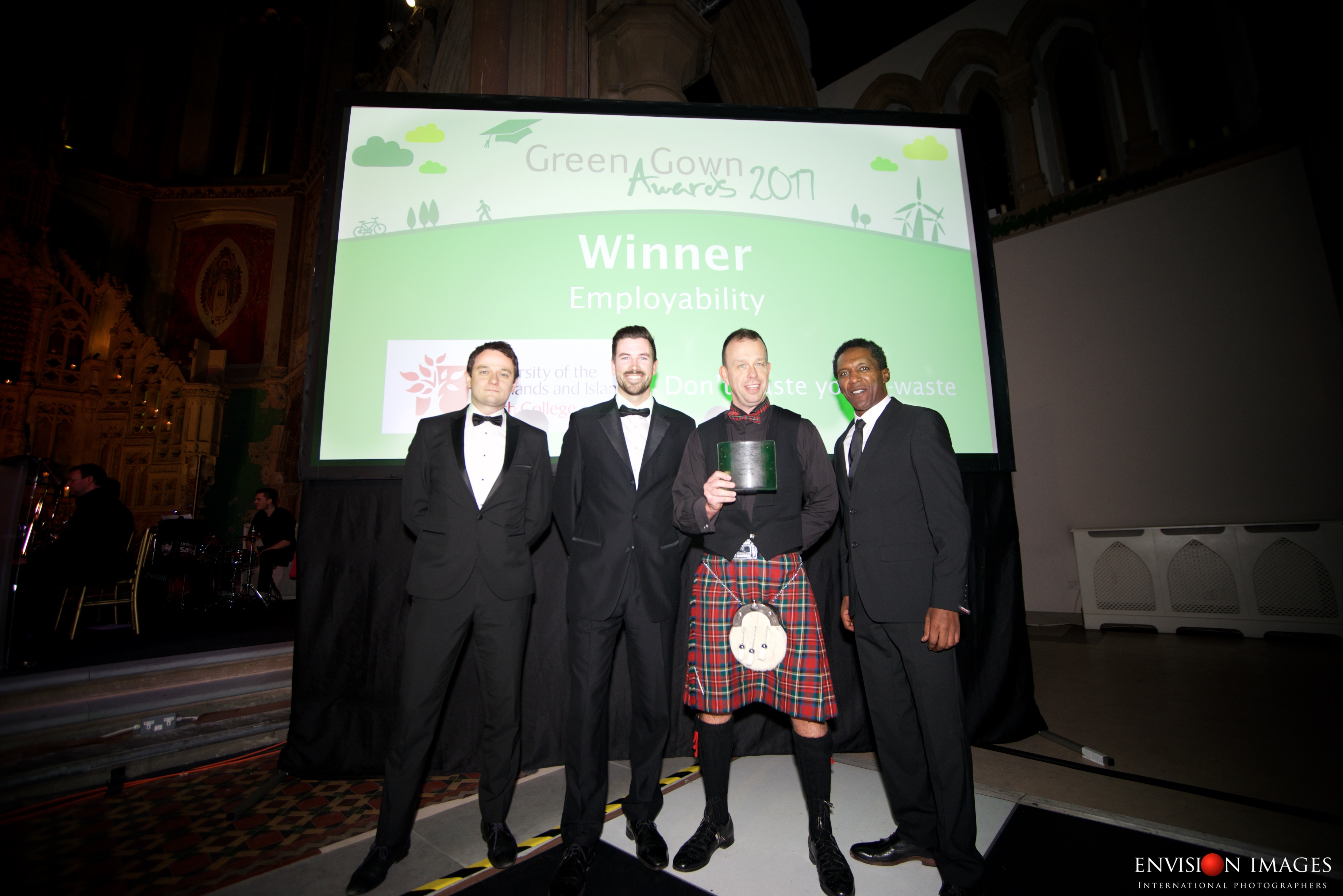 Paul Gratrick, The University of Manchester; Chris Kavanagh, Goldman Sachs; Dr David Gourley, Perth College UHI; Lemn Sissay, Chancellor at the University of Manchester
The Perth College UHI WEEE Centre (Waste Electrical and Electronic Equipment Centre) has won the 'employability category' in the Green Gown Awards Ceremony held on Wednesday 15 November in Manchester for their 'Don't waste your e-waste' project.
With only 22 winners out of 113 finalists, representing over 1.5 million students and 244 thousand staff, the Awards Ceremony celebrated inspirational sustainability initiatives being undertaken by universities and colleges across the UK and Ireland.
The WEEE Centre project provides a route for local people, businesses and the college to donate their unwanted equipment for responsible reuse or recycling. Centre staff then work with computing students to refurbish the waste IT and communications equipment for resale, giving students access to real life work skills and practical experience. The affordable, good quality refurbished equipment is then offered for sale to staff, students and members of the public, improving accessibility to technology for all. All proceeds from sales go back into the student journey, for example funding scholarships and field trips.
Sarah-Jane Urquhart, National Training Programmes and Employability Manager said: "We are thrilled to have won this award and be recognised on a national platform for engaging staff, students and our community in such a worthwhile sustainable project. The 'Don't waste your e-waste' project aims to create opportunities for young people working in technology to gain employability skills and experience of what is expected in a real life working environment.
"We found work experience at the WEEE Centre improves the student experience and increases student motivation, as well as increasing student engagement and awareness across the college. Over the life cycle of the project, 40 tonnes of electrical equipment has been collected over 7 years, resulting in a significant reduction in landfill.
"The Green Gown Awards are established as a significant recognition of best practice within the further and higher education sector and endorses the college's strategic aim to ensure we thrive and prosper in environmentally, socially and financially sustainable ways."
For more information, see: www.perth.uhi.ac.uk/weee-centre