Exhibition focused on historic Old Perth Wall
A Perth College UHI student has focused on a fascinating piece of Perth's history as part of her curatorial placement at Threshold artspace in Perth Concert Hall.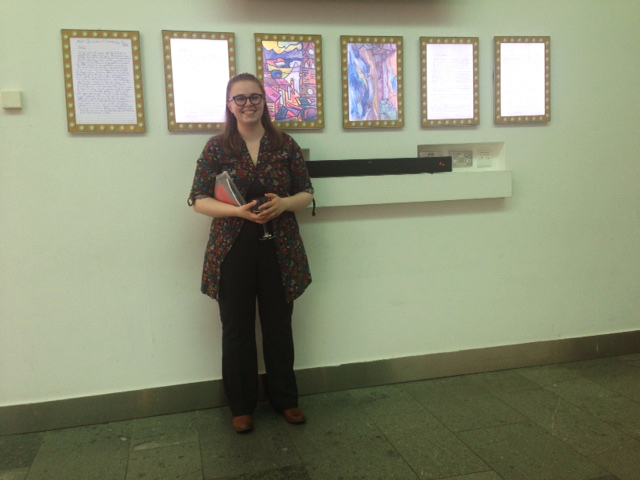 Tabitha McKechnie, studying BA (Hons) in Contemporary Art and Contextualised Practice contributed to the exhibition of works 'Real Wall Virtual Walls' by acclaimed Dutch video art pioneer Madelon Hooykaas.
She explains: "I took on a research project to go along with academic writing from the co-curators Iliyana Nedkova and Laura Leuzzi, with my focus being on the local history of Perth, specifically the Old Perth Wall. As an artist, I wanted to explore the ideas of the different types of walls humans create, and the landscapes they thrive in.
"I was fascinated by the remaining piece of Perth's original 14th century wall, in the small alleyway off George Street. There are a few mentions of this physical wall in various publications and questions of its authenticity, but it does follow the lines of where the original wall would have been and therefore could be considered the last remaining section of the Old Perth Wall.
"The artwork itself is an artist's response to not only the research I completed, but also the Madeloon Hooykass exhibition. They are oil pastels, and feature different areas of Perth that are iconic to the area or heavily recognisable as belonging to the character of Perth City. I feel this imagery was essential to bring a local connection to the exhibition, while still keeping to the theme of fortification and the perception of a wall being a non-physical construct. The artwork featuring the River Tay for example could have once represented the city boundary - until the construction of the bridges. The artworks are abstract in nature, as is the style of my professional practice."
Iliyana Nedkova, Creative Director of Contemporary Art at Horsecross Arts said: "Throughout her curatorial placement at Threshold artspace Tabitha demonstrated her commitment to learn, work hard and contribute to the success of all the projects, exhibitions and related events. I am so pleased that as part of Madelon's first solo exhibition in the UK, we were able to celebrate Tabitha's achievement in public through commissioning her to undertake research about the Old Perth Wall; publishing her research in the Read More journal for critical writing; exhibiting her research notes and drawings in the artspace and featuring her in the podcast post-preview discussion with the artist and co-curators. I can't wait to welcome our next Perth College UHI student on their curatorial placement at Threshold artspace as part of our ongoing agreement."