COVID 19 Customer Guidelines
Mywellness App Tutorial
content
UKActive Approved COVID19 Fitness Centre
We are proud to be a UKActive COVID19 Approved Fitness Centre. We have followed the fitness sector's reccommended framework for reopening.
Our members and cutomers can have confidence that when you return to your gym or fitness class, you will be getting active in a safe environment.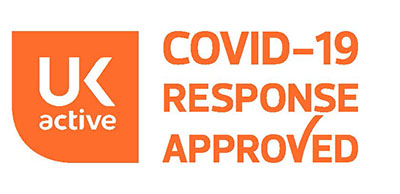 Cashless Payments content
Cashless Payments
Cashless Payments
To reduce touch points and reduce COVID transmission, we will go cashless until further notice. If you have any outstanding payments, please and pay in advance to avoid queuing and head straight in when you arrive.
Bookings content
Bookings
Bookings
We are excited to launch our brand new Technogym software where you can book all your gym sessions, fitness classes and appointments all in one place.
We will send all members and users an personal link to subscribe to the app for FREE 1 week before we reopen. This will give members their very own platform to book all classes, fitness spaces, workouts and schedule individual appointments with an instructor.
We now advise customers to avoid booking their classes at reception. This is to help reduce transmission and promote social distancing as much as possible.
Find out more about the app by clicking here.
N.B. For those who do not have access to the latest technology,
One Way System and Social Distancing content
One Way System and Social Distancing
One Way System and Social Distancing
We ask all customers and users to adhere to Government Social Distancing Guidelines at all times. We have introduced a clear, simple 1-way system which we ask our members and customers to follow on each visit. Queuing systems are in place our new "fast tracking" system to reduce waiting time and promote social distancing.
Changing Rooms, Lockers and Toilets content
Changing Rooms, Lockers and Toilets
Changing Rooms, Lockers and Toilets
Our changing rooms will remain closed until further notice due to potential risk of transmission in our changing rooms through use of benches, showers, toilet and lockers. Our main toilets will remain open with a '2 in, 2 out' approach.
Our hand dryers have been turned off and we have installed self-dispensing paper towels instead. Toilets will be routinely cleaned every hour and deep cleaned morning and evening, every day.
Face Masks content
Face Masks
Face Masks
We ask that all members and customers wear a face mask on entrance and whilst moving around the facility. We will not ask members and customers to wear facemasks when you are exercising.
Cleaning and Disinfecting Schedules content
Cleaning and Disinfecting Schedules
Cleaning and Disinfecting Schedules
We have further increased our existing thorough cleaning schedules and adopted a 3 stage cleaning approach for each of our 5 fitness spaces:
Deep cleaning: Carried out 1.5 hours every night, 7 days per week, before closure.
Routine cleaning: We guarantee there will be at least 1 member of staff cleaning during every hour we are open.
Intermittent cleaning: We will sanitise every piece of equipment (big and small) and all touch points within the facility between allocated booking slots.
We have allocated 20 minutes after every fitness class to disinfect and sanitise the equipment, exercise space and all touch points. Every time you attend your preferred fitness class, you can have confidence your space and equipment is clean and safe.
Cleaning and Sanitising Stations content
Cleaning and Sanitising Stations
Cleaning and Sanitising Stations
We have introduced 8 cleaning stations and 15 sanitising units located across the ASW.
Members and customers are required to wash and sanitise hands regularly during your visit.
You must sanitise your hands at the cleaning station provided upon entry.
Members and customers must use the approved cleaning solution and disposable roll to thoroughly sanitise touch points and the equipment as usual, after each use.
Exercising Spaces content
Exercising Spaces
Exercising Spaces
We have created new, safe, spacious areas across our facility to allow for safe and enjoyable exercise. All areas and equipment are spaced out and clearly marked. We ask all customers to keep within these zones at all times to help protect each other.
Regular Gym Access content
Regular Gym Access
Regular Gym Access
Regular gym access will require advanced booking via the TechnoGym App to make the customer experience safe and enjoyable. Over 60 x 1 hour slots are available to book every hour.
Please arrive at least 15 minutes before your session to allow plenty time to scan in, sanitise and get organised for your session to start on time!
Fitness Classes! content
Fitness Classes!
Fitness Classes!
We are getting excited to launch our brand-new class timetable (coming soon!), which accommodates social distancing and supported by rigorous cleaning and sanitising standards, during and after every class.
Good News! Classes will be delivered from our sports hall therefor we are able to maintain usual class sizes by increasing the exercise space available.
Careful class timetabling will allow participants to enter and exit classes spaciously without breaching social distancing guidelines. If you are booked for consecutive classes, we will ask you to wait patiently at the fitness class queuing zone until instructed to enter. Our instructors have 20 minutes time to clean and sanitise the space and all equipment between classes to make sure you enter a safe and clean environment every time.
Water Fountains content
Water Fountains
Water Fountains
The water fountains will be out of use and we advise members to please bring their own water/drink.
Looking after each other content
Looking after each other
Looking after each other
It is everyone's responsibility to stay safe by using the facilities as guided and interact with each other sensibly. We must all contribute to the "new normal" and ask all members and customers to adhere to the following:
If you experience any symptoms of COVID-19, you must not attend the Academy of Sport and Wellbeing. Please follow the NHS Scotland COVID 19 Guidance.
To facilitate the Scottish Government "Test and Protect" system, we will record visitor, customer and member "name, contact number, date & time". Please ask for our privacy notice for further information.
Have a look at our UK Active Approved Safety Plan that we have in place to protect you and us.
The safety of staff and users is the primary objective of gym operators across the UK. This will be carried out through a combined and consistent range of measures in line with Government regulations and our own strategy to protect our staff and users.
We are committed to making this facility a safe place to work and workout. We require your commitment to each other as staff and facility users – we are all in this together.
We are here for you..
We understand returning to your gym or fitness class can seem daunting. If you have any questions or concerns, please get in touch and we will happily take the time to discuss any concerns you might have.