Community Wellness Garden Project
content
content
content
The project is developed by the Development Trust – which aims to support inspirational projects and create opportunities for Perth College UHI and the wider community. The Trust is made up of volunteers from the community who are passionate about education and who want to see a thriving institution in the local community.
The Project
Each year over 800 students at Perth College UHI are recorded as having mental health issues – likely with many more going undetected. To address this issue and the wellbeing of all our students, staff and the local residents, we would like to create a community wellness garden which we believe will enhance the existing sports facilities and provides space to relax, reflect and rejuvenate, subsequently improving health and care practices. We see the garden playing a pivotal role in the wellbeing of both the College and the wider community helping to improve the quality of life for users.

Breaks from studies, meetings, lunch hours and evening relaxation could be spent enjoying the benefits of the garden gathering thoughts and renewing energy. The proposed cafe area would provide an excellent space to be with others and would enhance the garden's sense of community.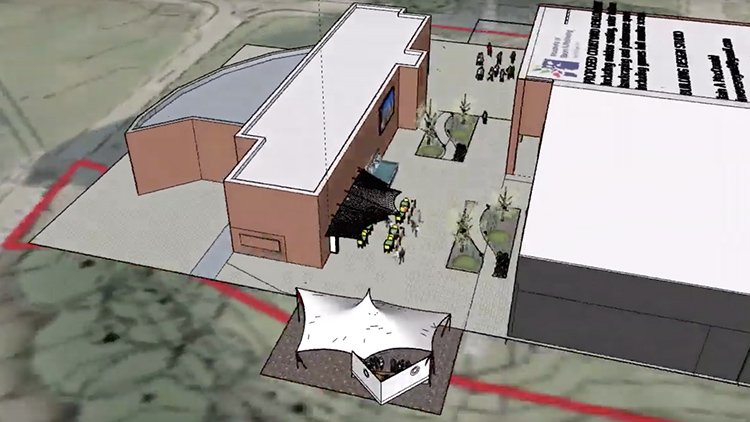 Enhancing the Student Experience
The garden would be created by horticultural students, providing work-based study, learning and employment opportunities. Once established, students and staff would have the opportunity to volunteer to look after the garden, giving them the chance to take a pride in their local community.
Exercise and Interaction
The decking area would provide a space for exercise social interaction and events, creating opportunities for health and wellbeing. Regular Yoga and Tai Chi classes will be timetabled to explore the mind body and spirit and a range of health and beauty treatments will also be available.

Pressures on young people and society are well documented, increased and amplified by the pandemic. As young people strive to make their way in today's world, balancing the pressures of study, finance and job prospects is extremely challenging. Enhancing the campus environment with an accessible sanctuary will address these challenges, help students stay on course and benefit the health and wellbeing of the community.
How can I get involved?
A gift of £20 or More
Acknowledgement on Donor Tree
Every gift of £15 and more will be eligible to put their name on a leaf in our donor tree. This will show that you have contributed to making the community a better place.

A gift of £25 or More
Fitness Session
By donating £20 you can enjoy a free session at one of our fitness classes in the Academy of Sport and Wellbeing.

A gift of £30 or More
Beauty Treatment
By donating £30 you can enjoy a free Beauty Session in our training salon: The Retreat

A gift of £500 or More
Name a Bench in the Garden
Why not select your favourite spot in the garden and buy a bench. By donating £500 you can add your name or a dedication to a plaque on the bench.

Contact us on Fiona.Leslie@perth.uhi.ac.uk or 01738 877215 to find out more.